A couple of weeks ago I had a long chat with Coach and Wellness Warrior, Bonnie Matthews [2].  Bonnie, working closely with WGC member Nature's Organic Grist [3], has been promoting the incredible nutritional values of this whole grain and attributes much of her weight loss success to it.  Bonnie was sharing with me the benefits of freekeh, an up and coming grain with a long history. 
I was immediately intrigued but before I could even start this blog, I learned that another WGC member, foodservice specialists Indian Harvest, was introducing freekeh [4] to its product line. Suddenly, this grain that I had not even heard of a few weeks ago was showing up everywhere I turned!


Freekeh Wheat Lamb Mini Tacos with Kalamata Greek Slaw (L)
and Freekeh Brussel Sprout Hash with Sunny-Side Fried Egg (R)
Pronounced "free-kah", the Arabic name actually translates to "to rub", referring to the process by which freekeh is made, not the grain variety.  Freekeh is not an actual grain; there is no such thing as a freekeh plant! The "freekeh" process starts by picking young green grains, most commonly wheat, then parching, roasting and rubbing the grain off the wheat head.  Because the grains are harvested while young, they retain the maximum nutritional value, not to mention the best flavor and texture.
History traces freekeh back to ancient Egypt and in Lebanon, Jordan and Syria.  The story goes that in 2300 B.C., a nation in the Eastern Mediterranean was anticipating an attack on their city.  Worried about losing their crops and starving, they picked the early green heads of wheat and stored them.  Unfortunately, the city came under fire and their green wheat was burnt.  The people, not ready to throw out their food supply, rubbed the wheat heads and found the grain not only edible, but delicious!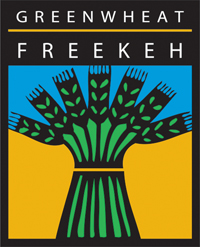 While freekeh has not yet made it onto the USDA nutrient database, the Australian-based company Greenwheat Freekeh [5]™ has analyzed its values and determined the grain to be high in protein and fiber, and low in available carbohydrates and glycemic index.  And remember, freekeh is typically derived from wheat so it's not gluten free or recommended for people who are gluten intolerant. Researchers are studying the early harvesting and roasting techniques to determine whether wheat gluten becomes denatured in the process.
Sometimes referred to as the smoky cousin of bulgur wheat, freekeh is nutty and chewy, making it a favorful addition to pilafs, soups and stews.  Lorna Sass, WGC Culinary Advisor and author of "Whole Grains Every Day Every Way" [6], compares the flavor to a lapsang souchong tea.
As it grows in popularity, freekeh will become more readily available, but already online sources like Amazon.com carry it (from two different vendors!), as do specialty stores and natural food stores, like Whole Foods [7]and Trader Joes [8].  Foodservice operators can also order it  from Indian Harvest [9]. (Karen)
If you're anxious to get cooking, freekeh cooks up in about 20 minutes.  Here are two great recipes we love:
Freekeh with Roasted Butternut Squash and Dried Cranberries [10]
Mediterranean Freekeh [11]
All photos this page courtesy of Indian Harvest.