Gluten-free cuisine is lagging (down 7% since last year), but don't put away your quinoa salads or buckwheat noodles just yet.  The National Restaurant Association recently released the "What's Hot in 2015" report [2] after surveying nearly 1,300 chefs this fall about the next great culinary trends, and the results are telling for a new era of grain variety. 
Among the top 100 food trends (those which at least 50% of chefs identified as a hot trend), whole grains placed prominently throughout the list:
#4 Healthful kids' meals
#5 Natural ingredients/minimally processed food 
#11 Non-wheat noodles/pasta
#12 Gluten-free cuisine
#13 Ancient grains
#14 Whole grain items in kids' meals
#17 Nutrition
#26 Non-wheat flour (e.g. millet, barley, rice)
#27 Simplicity/back to basics
#34 Quinoa
#39 Ethnic Flour (e.g. teff)
#41 Nose-to-tail/root-to-stalk cooking (e.g. using entire animal/plant)
#46 Black/forbidden rice
#80 Farro
#94 Asian noodles (e.g. soba)
How does 2015 stack up to previous trend reports? New to the list this year is the focus on natural ingredients and minimally processed food (#5). With their nutritious bran and germ intact, whole grains are right at the center of this craze. Grain-based meals are also the building blocks of other popular trends, including meatless/vegetarian items (#32) and ethnic cuisine (such as ethnic inspired breakfast items, #16, or ethnic fusion cuisine, #61).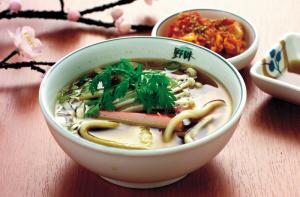 One unifying theme for 2015 is grain variety. Indeed, while the gluten-free fad is losing some of its steam compared to previous years (-7%), chefs are expanding their grain repertoire to include other ancient grains (such as naturally gluten-free quinoa, amaranth, millet, and teff), as well as pasta made from non-wheat sources, such as brown rice, buckwheat, or quinoa. Tellingly, Asian noodles (such as the traditional soba noodle, made from whole grain buckwheat) are also gaining popularity (+5%) this year.
Whole grains on menus aren't just for adventure-seeking adults. Healthy kids' meals have remained a top 20 food trend for the past six years (placing at #4 this year). But what does a nutritious kids' meal look like? According to the chefs surveyed, it means one with whole grains. Whole grain items in kid's meals (the most popular kids' meal trend behind healthful kids meals) took #14 in the top 20 food trends, placing above fruit/vegetable kids' side items (#19), kids' entrée salads (#43), and oven-baked items in kids' meals (#53).
From exotic ingredients and ethnic flours, to the classic pantry staples (56% named oatmeal as a perennial favorite), whole grains are stepping into the spotlight in 2015. Wondering which restaurants have whole grains on the menu? Check our recently updated chain restaurant webpage [3], put together with help from Healthy Dining Finder [4]. 
Which whole grains do you hope to find in restaurants this year? (Kelly)