Two weeks ago, we had the pleasure of attending the 2015 Whole Grain Summit [2] in Portland, Oregon, where grain gurus across all industries strategized ways to empower healthy change together.  Cynthia Harriman, director of food and nutrition strategies here at the Oldways Whole Grains Council, spoke about nutrition communication, and how to set straight some of the most widespread misunderstandings about grains (look for some of her quotes in this article [3] or download her full presentation [4]). Many other speakers also debunked prominent myths, sharing research on wheat and gluten, and affirming that gluten-related disorders (such as celiac disease, or non celiac gluten sensitivity) only affect a very small proportion of the population (about 1-6%). 
Indeed, at this point in the research, the health benefits of whole grains are well documented [5]. As stated by Jan de Vries, a research expert in the Netherlands, "There is already a lot of information on whole grain and its benefits to health, so let's step into action." 
Rising Popularity of Whole Grains
In what is surely one sign of positive action, Laurian Unnevehr, of the University of Illinois at Urbana-Champaign, shared that whole grain purchases are one of the few areas of progress in healthy eating, and have been increasing over the past decade. In fact, on average, USDA data show that Americans are getting nearly half of the recommended 48g whole grains per day.
Whole grains are also making strong headway in school meals – often beyond what might be expected by recent new mandates. According to chef Garrett Berdan, child nutrition specialist for Oregon public schools, "There's good opportunity for whole grains in schools. Many kids are sophisticated eaters. They know what quinoa is — and how to pronounce it!" While this may not sound surprising for Portland, given the community's famously progressive dining culture, kids all over the country are embracing whole grain options. 
Lisa Feldman, Director of Culinary Services at Sodexo (a foodservice management company for everything from schools to sport stadiums) said that she is "vehemently opposed to any rollback," of the school lunch requirements for whole grains. According to Feldman, "it's ridiculous to roll back on the solutions we've already created. We're where we need to be now." These encouraging testimonies are consistent with research on the new school lunch standards, where most (70% [6]) students seem to like the new school lunches, and are eating significantly more of their whole grain rich entrees (up from 71 to 84% [7]). 
How to Make the Healthy Choice the Easy Choice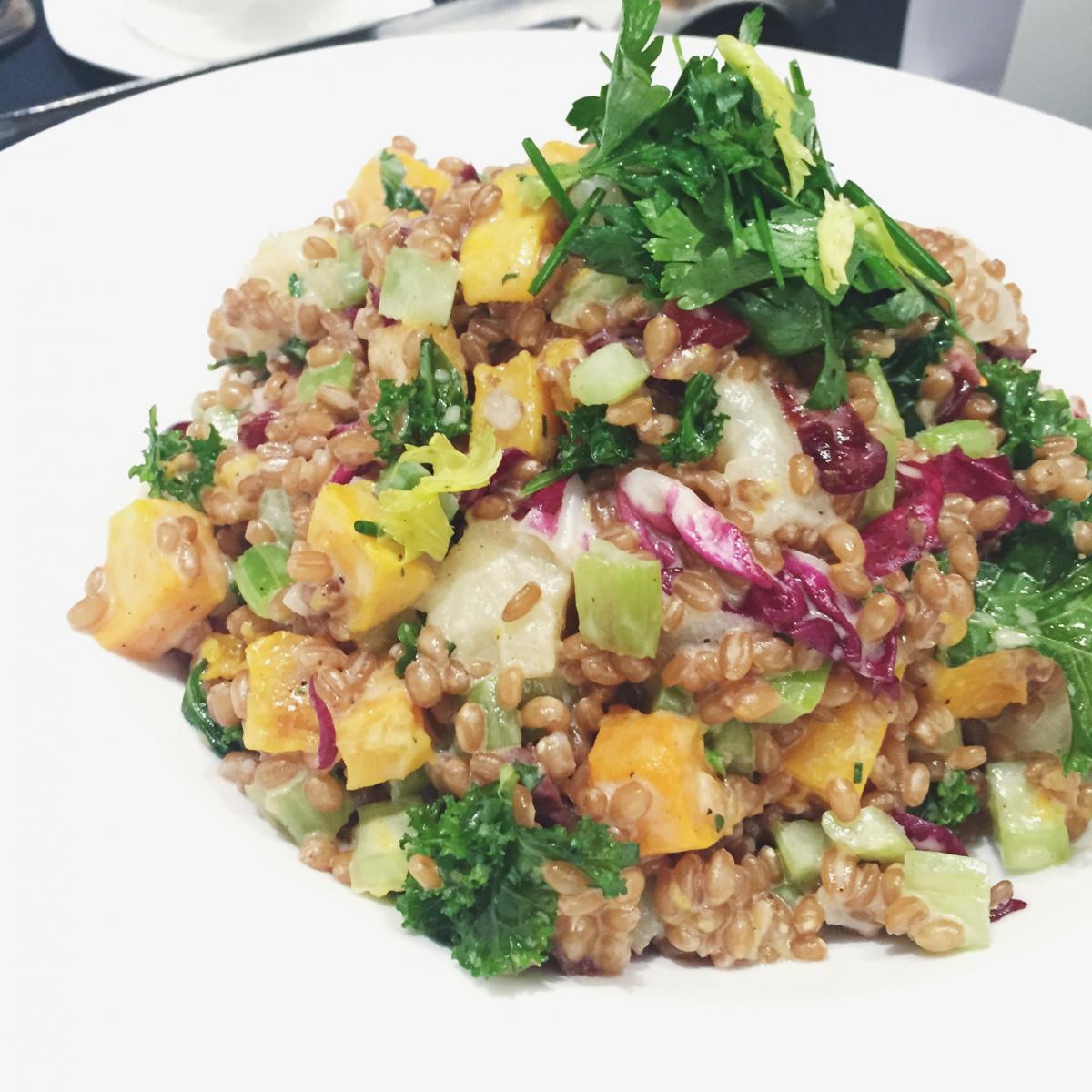 "It's less expensive to eat healthy than to get sick," reasoned Meijer supermarket dietitian Shari Steinbach. That being said, one of the few remaining hurdles facing whole grain consumption is price. Laurian Unnever explained that whole grains still cost about 24-46% more than refined grains, which may explain why most increases in whole grain purchases are among wealthier consumers. 
To help bring down food costs, breeders, farmers, millers, and manufacturers are going to need to tweak the infrastructure of the processing system (which currently favors refined grains) along each step of the food chain. According to Nancy Ames, a scientist with Agriculture and Agri-Food Canada, the most commonly available varieties of grains are not necessarily best suited for use in whole grain products, as most grain breeding programs only assess grains in their refined form. For the best-tasting whole grain foods, Ames suggests that we rethink our research process, emphasizing that "We have to test them as whole grains right from the beginning." 
The food industry can help support nutrition efforts as well. According to chef Berdan, "Schools need access to more intact whole grains and advice on how to market them to kids." Similarly, Amy Myrdahl Miller, a consultant for several of the largest restaurants and foodservice operators in the country through the Culinary Institute of America's Healthy Menus R&D Collaborative, echoes this need. She explained that while 100% of the chefs that she works with are interested in serving (or are already serving) whole grains, most chefs are more interested in intact whole grains (like farro, brown rice, or quinoa) than whole grain flours.
To continue the momentum, restaurants and manufacturers will need to be ready with a wide-ranging supply of great tasting products. After all, as these healthy whole grain options are making their way into shopping carts, and schools are helping to shape children's taste preferences, it is easy to see that whole grains are well on their way to becoming the new norm. (Kelly)
You can download a PDF here [8], with even more details and quotes from the Whole Grain Summit 2015.