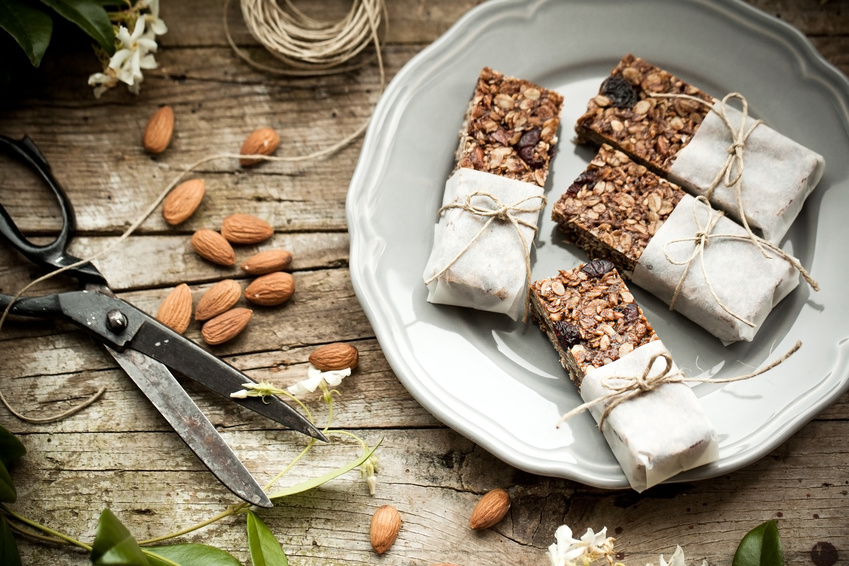 As the summer days are getting shorter, the weather is becoming less humid and more enjoyable in New England. Taking full advantage of the change in temperature and the dwindling summer season, I love to get outside and explore as much as possible. I was recently planning a hike up New Hampshire's famous Mount Washington [2], and was deciding on the best trail snacks to pack along. In my opinion, a good homemade granola/granola bar is perfect when you're looking for all-day energy and easy storage and cleanup while adventuring in the great outdoors — or anywhere!
In most grocery stores, you can find an incalculable amount of pre-packaged granola snacks including cereals, bars, cookies, trail mixes and the like. While convenient, some of these items are surprisingly high in sugar and may contain additives you don't want. Plus, making your own is relatively simple, and there's something so satisfying about the smell of warm, golden, toasty granola wafting through the house.
One of the best things about granola is that you can mix and match any flavor profile you'd like, and you can also use various whole grains, including rolled oats, buckwheat, millet and quinoa just to name a few. Along with the flavors and ingredients, you can choose to take it in different directions: a traditional granola to eat as a cereal with milk, a topping for yogurt or oatmeal, in the form of a granola bar, or just to eat dry on–the-go. I've even used it as a base for a fruit tart [3]! Below, I've included three different takes on granola that are tried and true here at the Oldways Whole Grains Council.
One of my very favorite granola recipes comes from the Oh She Glows blog. Her Power House Granola [4] contains a variety of pantry items to make one delicious snack. I love that her recipe originally came together without a recipe! It is the epitome of granolas – made on the fly and packed with all kinds of goodness. Another great recipe comes from the Princess Misia [5] blog. If you're looking for something a little heartier, this granola is full of nuts like hazelnuts and walnuts to provide a dose of heart-healthy fats and protein. Her take on the treat uses both popped quinoa and oats to offer a bit of variety. It feels a little more like a trail mix than a traditional granola with all of the nuts and seeds to enjoy.
If you're looking for something on the sweeter side, this Hazelnut-Lavender-Coconut Granola [6] is a winner. It's a bit more of an indulgence, and slightly addicting, but worth the effort to find the culinary lavender (I found it in my local Whole Foods bulk section). Using oats and buckwheat as the base, this delightfully nutty treat is flavored with coconut butter, sweetened with honey, and lightened up by the Meyer lemon zest.
As a granola bar option, our Whole Grains Council recipe section features this Multigrain Energy Bar [7] that packs 7 grains into each serving. Containing four different kinds of fruit and sweetened only with honey, it's not overly sweet but still satisfying and filling. Whether you're exploring a mountain summit or your local city park, a well-made granola bar is hard to beat with it's convenience and ability to keep you energized.
As a bonus, these tips and recipes double as great options for kids when it comes time for them to head back to school in the Fall! Pack some as a nutritious snack to fuel their schoolyard adventures, or make sure they power up their day with a healthy, wholesome breakfast each the morning.
Do you have a favorite granola combination you'd like to share? We'd love to try it out!
(Harley)