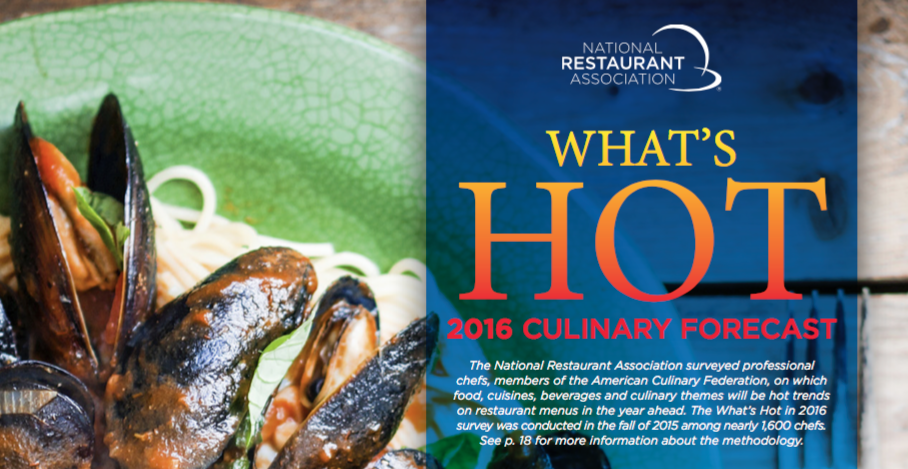 The results from the National Restaurant Association's 2016 Culinary Forecast [2] are in, and 2016 is poised to be another hot year for ancient grains [3] (the #15 trend). But in an exciting sign for grain variety, it seems that quinoa is finally sharing the spotlight. View the full survey results here [2].
In this national survey of over 1,500 chefs, nutrition (#27) remains a trendy concern, along with natural ingredients / minimally processed foods (#5), healthful kids' meals (#7), and more specifically, whole grain items in kids' meals (#25).
Noticeably different this year is dampened enthusiasm for gluten-free cuisine (#45), which is down 8% from last year. Nonetheless, many naturally gluten free grains [4] remain popular with chefs. While more than half of chefs surveyed still name quinoa as a hot trend (#78), it has been surpassed by non-wheat noodles and pasta (#22), black / forbidden rice (#38), non-wheat flour (#59), and farro (#71). New to the list this year is a trend towards protein-rich grains / seeds (#36). Since more than 25% of a grain's protein is lost when it is refined, whole grains are perfectly poised to fill this nutrient need.
African flavors were the fastest growing trend this year, up 20% (to #35). This interest, along with trends towards environmental sustainability (#6), authentic ethnic cuisine (#12), and ancient grains (#15), suggest that many of the drought-friendly African whole grains, like millet [5] and teff [6], will edge their way towards the mainstream. (Another Oldways program, A Taste of African Heritage [7] cooking curriculum, spotlights many of these traditional African flavors and foods.)
When we surveyed American adults this summer, the most loved whole grains were whole wheat (55% named it as a favorite), oats (47%), brown rice (41%), and corn (37%). Nothing's wrong with the classics, but we're excited to see chefs in this survey embracing many of the lesser-known grains.
Will consumers cling to tried-and-true favorites, or will they follow the lead of fearless chefs and rejoice in the choice? We can hardly wait to find out! (Kelly)