Although the Oldways Whole Grains Council started life with a US focus, our efforts to champion whole grains soon caught the attention of whole grain advocates in other countries. Before long, organizations, companies and governments far and wide asked us to partner with them in spreading the word about the great taste and health benefits of whole grains. Today we'll share a photo history of a few representative highlights of ten years of WGC globetrotting for whole grains.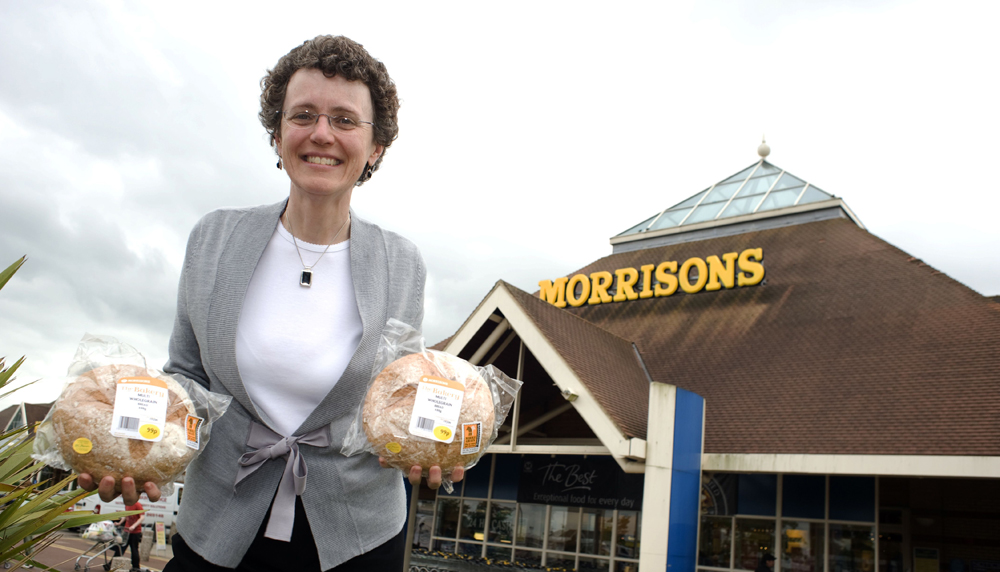 After we introduced the Whole Grain Stamp in 2005, we spent a few years working with regulatory authorities in Canada, to clear the way for use of the Stamp in our neighbor to the north. A month after we got the green light for Canada – in early 2008 – a major UK ingredient supplier asked us if they could use the Whole Grain Stamp in England. We were picturing another few years jumping through regulatory hoops. Fortunately, the UK company's corporate lawyers checked out any regulatory issues in record time and by that summer, the WGC was invited to the UK to participate in the launch of a whole grain bread at Morrison's [2], a popular UK supermarket chain. As part of the trip, I also went the rounds to talk to the media about whole grains and their benefits.
Ah, the perils of international travel. British Airways managed to lose my luggage on the way, and I was left scrambling to find presentable business clothes when the only stores near my hotel specialized in exposed navels and spaghetti straps. A big relief when I found something that covered all my vital parts, just before it was time to head for the media interviews. (Note to self: bring a set of clothes in your carryon.)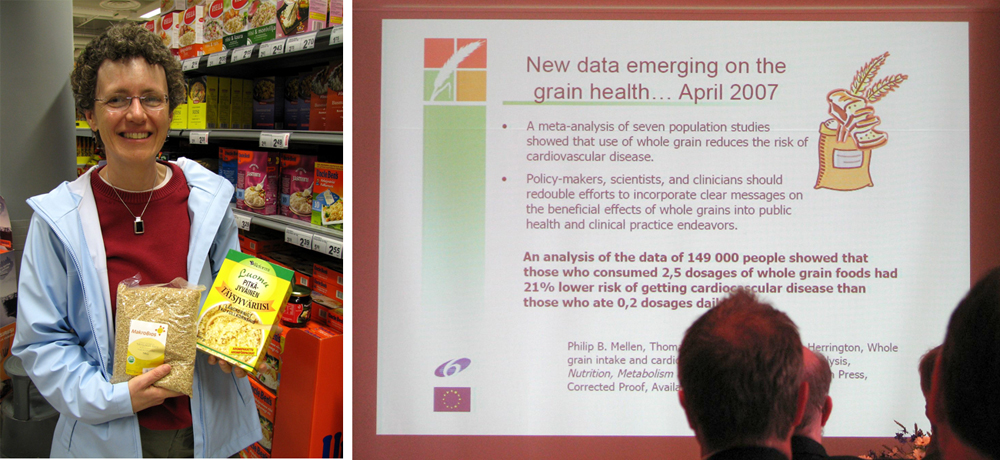 That same year, the European Flour Millers' Association [3] asked the WGC to travel to Helsinki, Finland to talk about whole grains as a marketing opportunity for millers throughout the continent. This conference was a great opportunity to get acquainted with folks from HealthGrain, the European consortium of researchers and manufacturers supporting whole grains. As a result of contacts made in Helsinki, we've been trading information and collaborating with HealthGrain ever since. In fact, as I write this we're working with HealthGrain (now HealthGrain Forum [4]) to plan the Whole Grain Summit 2017 [5], to be held November 13-15 in Vienna. I hope we'll see some of you there!
While I was in Helsinki, I visited a few grocery stores – one of my favorite activities while traveling. I love to see what's available for whole grains in other parts of the world. There's me, holding, a box of täysjyväruis – whole grain rye. Rye – wonderfully ubiquitous at Finnish meals – is ruis, and whole grain is täysjyvä.  June is a lovely time to visit Helsinki. It's light until nearly midnight, and almost warm enough to take your coat off, some days…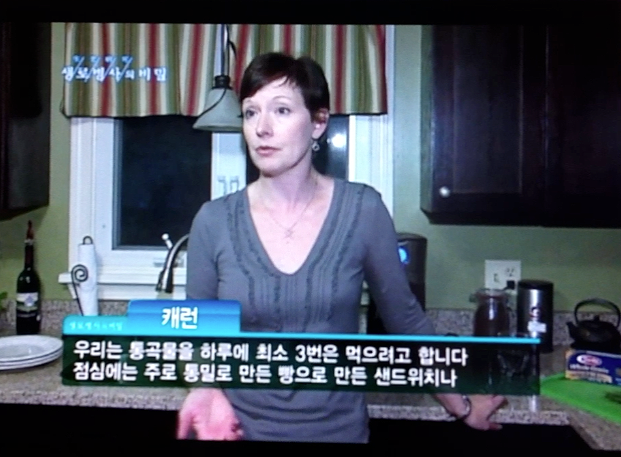 Sometimes the world comes to us, instead of us going out into the world. One fine day, the Korean Broadcasting Company emailed. They were working on a special about whole grains, to air on public TV in Korea. "Could we come to your offices in Boston, and tape an interview with you?" We said yes, of course. And then things snowballed. "Could we tape an interview with you, and maybe some footage of your staff eating a delicious whole grain lunch?" Well… umm… sure. Team Oldways doesn't eat lunch together every day, but we jump on the opportunity to enjoy birthday parties and Wine O'Clock celebrations in the office. Our colleague, Georgia Orcutt, whipped up an amazing spread of vegan whole grain dishes, and we tucked in, smiling for the Korean cameras as if to say, "Oh yes, we lunch like this every day here at Oldways."
Then came their final request: "Could we film a typical American family, cooking whole grains for dinner?" Karen Mansur, who was then Program Manager for the WGC, gamely volunteered, and that evening welcomed the film crew to her house just north of Boston. As the cameras rolled, Karen cooked a simple pasta dinner, while she talked about the delicious taste of whole grains. Her state trooper husband and two hungry teenagers played their roles of appreciative family members perfectly. Karen ran her own restaurant after she left the WGC, perhaps inspired by her fifteen minutes of fame on Korean TV.

When you think China, white rice and noodles probably pop into your mind, but the Chinese government wants to change that. They invited the WGC to co-organize a conference in Beijing [6] to educate health professionals and regulators about whole grains. Here's the main stage at the conference, which I attended along with Kara Berrini, WGC program manager at that time. (Kara's a fearless traveler. She even tasted the scorpions on sticks, sold as street food. I stuck to whole grains.)
Mr. Yu, our main contact in the Chinese government, returned the visit, attending our next Whole Grains Council conference in Portland, Oregon. That's Mr. Yu above, with Oldways President Sara Baer-Sinnott. Today the Whole Grain Stamp is on more than four dozen products in China, and three Chinese companies are WGC members. Change may not happen overnight, but slowly, it comes.

Another government that supports whole grains strongly is the government of Singapore, where whole grains are clearly recommended in their dietary guidelines [7], and the Health Promotion Board (HPB) allows its Healthier Choice logo on breads with at least 25% whole grain content. Local companies are stepping in with more whole grain products, consumers are eating more whole grains [8], and in 2014, the WGC welcomed its first Singapore-based member, Sunshine Bakeries. Sunshine was intent on introducing the concept of sprouted whole grains to local shoppers, and asked if we'd help. Specifically, they asked us to take part, via SKYPE, in a launch event where we would explain the benefits of sprouted grains. Mindful of the 12 hour time difference, they scheduled the event for 10am their time, and I agreed to make my remote appearance from home before turning in for the night.
Plans change, though. By the time the dust settled, the press conference had migrated to 3pm Singapore time – 3am here in Boston. I could have bailed, but I was too eager to help spread the word about sprouted grains. Reminding myself that SKYPE only shows your face and I could still wear my bedroom slippers, I set my alarm and got up in time to look completely business-like onscreen. Sure I lost some sleep that night — but at least this remote PR approach meant I didn't lose my luggage this time!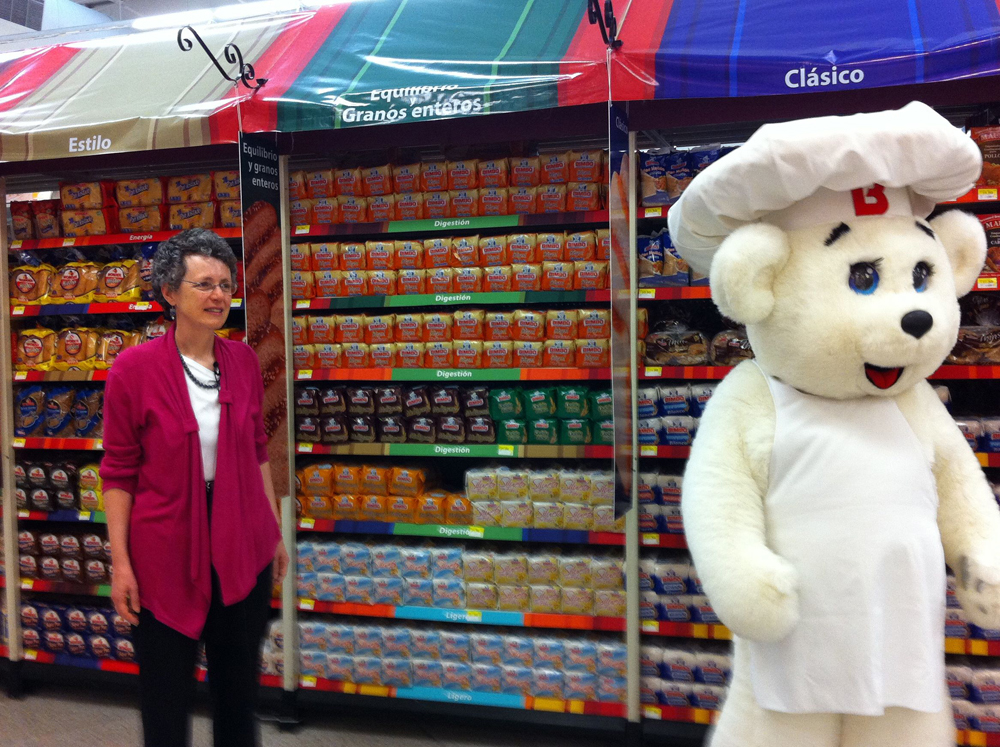 I'll end this tour down memory lane with one of my favorite trips, which took me to Mexico. The trip was at the invitation of Grupo Bimbo [9], said to be the world's largest bakery company, with headquarters in Mexico City. They asked me to speak about whole grains and health at a half-day conference for health professionals (doctors and dietitians), followed by several hours of media interviews. The next day I visited one of their factories, discussed whole grain marketing messages with their managers, and ended up at a grocery store, where Grupo Bimbo's mascot, the Bimbo Bear, showed me around the store. Grupo Bimbo continues to be one of the WGC's most active members; they helped spread the Whole Grain Stamp throughout Latin America, and they were the first company to use the Stamp in China.
When I joined Oldways in 2003 I had no idea that I would personally be promoting whole grains in so many corners of the globe. What comes next? There's a trip to Brazil next month, where regulators are mulling over new whole grain labeling guidelines. And every day we get WGC membership applications from new countires – most recently Lebanon and Cameroon. What could we be doing, to help bring more whole grains to your company? Keep your eyes on this blog, to see where our travels take us in the coming years. (Cynthia)
Intro
The WGC has covered tens of thousands of miles worldwide, spreading the word about whole grains. What a wonderful, strange trip it's been so far!