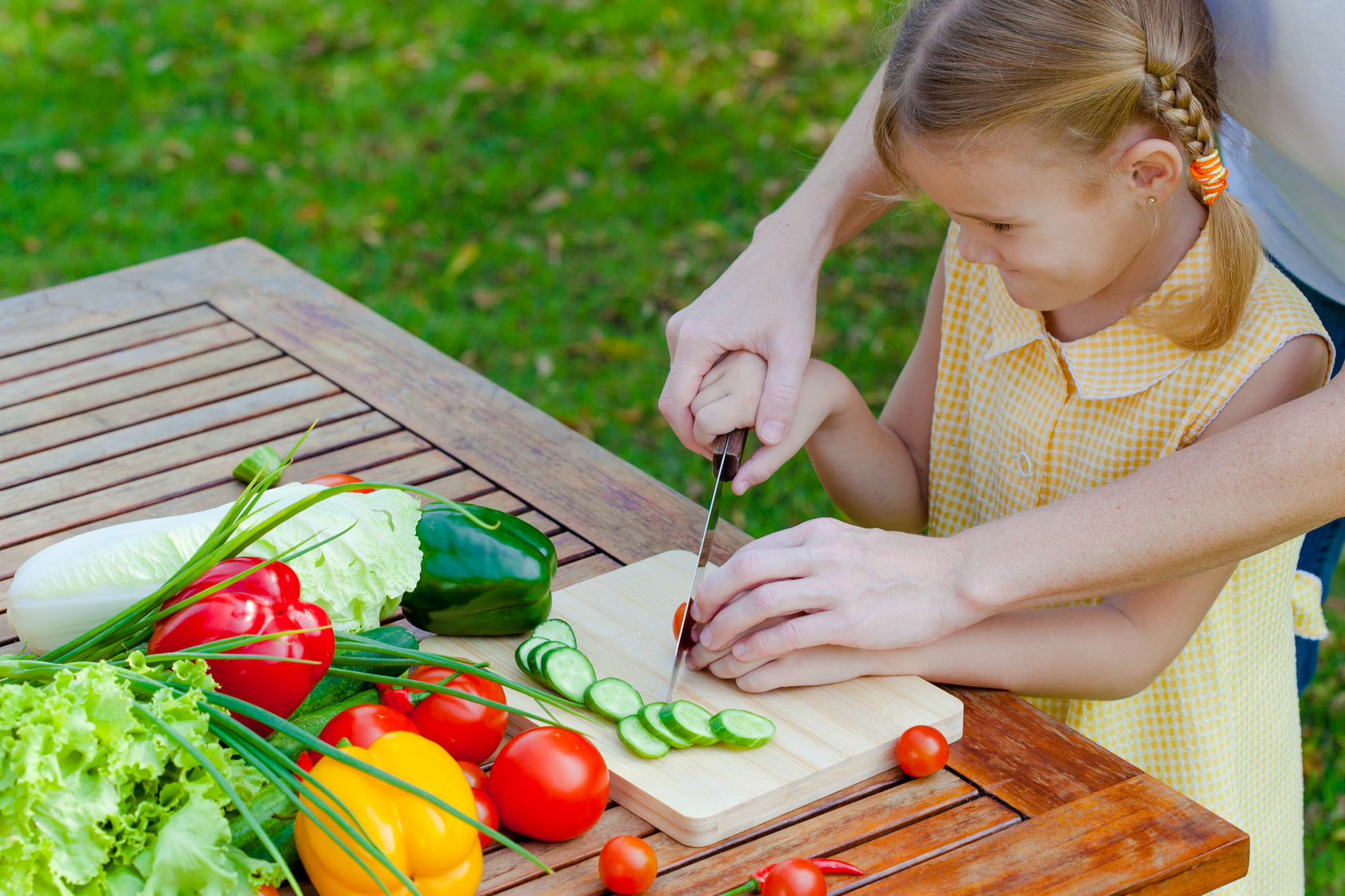 "I don't think kids are picky; we just make them that way," explains Bertrand Weber, director of culinary and wellness services at Minneapolis Public Schools. He is hardly alone in his assessment of the whole grain landscape in school cafeterias. In response to the media attention surrounding school nutrition regulations, "Renegade Lunch Lady" Ann Cooper says, "I think it's an adult issue, not a child's issue," and notes that oftentimes the kids hardly notice.
This was also my own personal experience, working as a foodservice manager at an elementary school in Austin, TX, during the winter of 2011. Although the Healthy Hunger Free Kids Act (the updated school nutrition regulations that Michelle Obama championed throughout her time in the White House) had not yet gone into full effect, our school was already serving whole grain-rich options. Albeit, these were not the farm-to-table, scratch-prepared foods that foodservice directors like Weber and Cooper are pushing. Instead, we had whole grain versions of your typical elementary cafeteria staples that workers simply had to heat and serve: pizza, burgers, and biscuits. But regardless, the kids ate them right up. They didn't seem to notice that it wasn't the exact same bun that they see at the drive-through; they just seemed pleased to be getting a burger.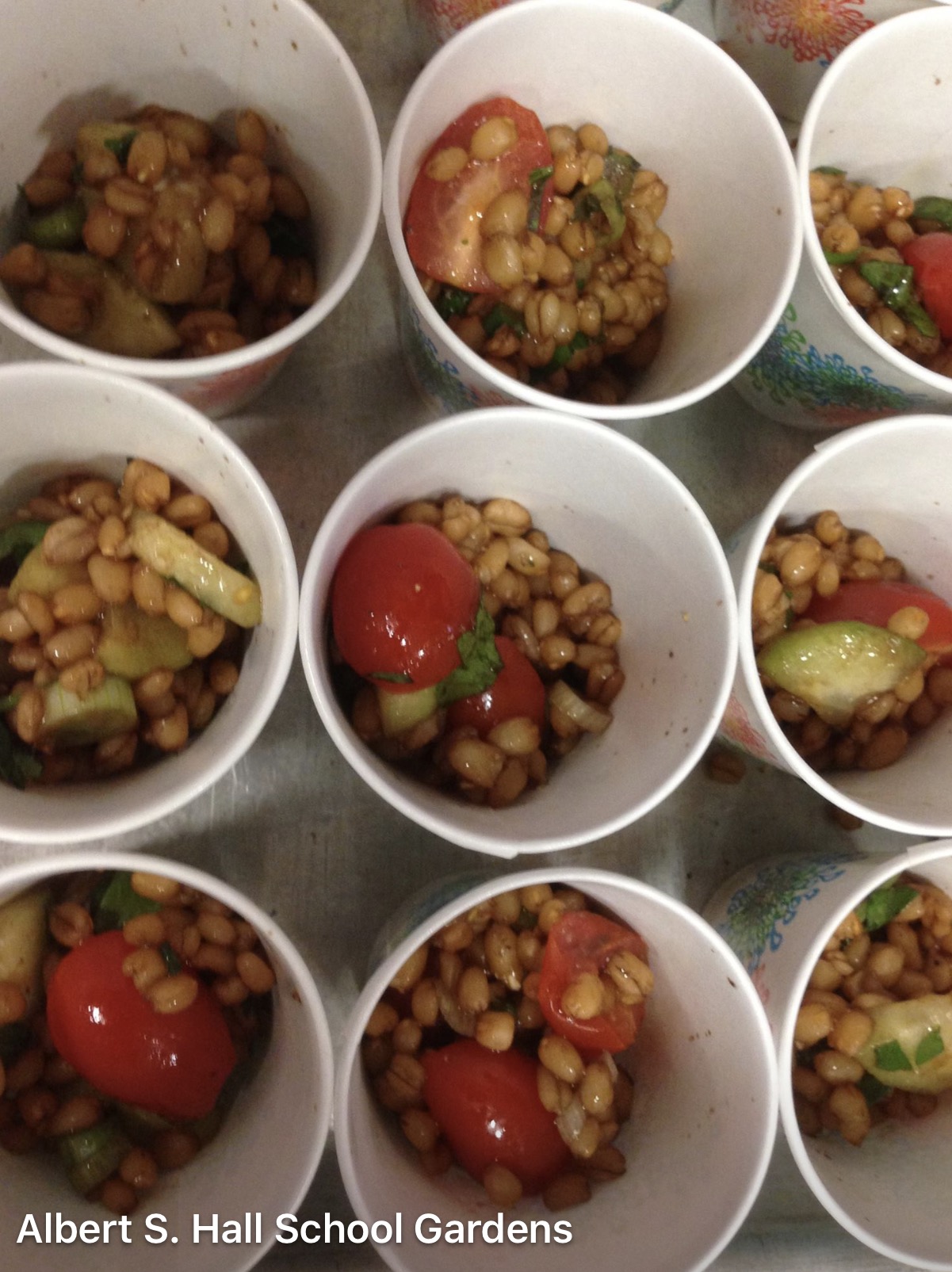 However, today's children are a completely different story. When asked about the most popular whole grain dishes of his Waterville, Maine 4th and 5th graders, FoodCorps service member Sam McClean described a spelt salad made with cherry tomatoes, feta cheese, cranberries, cucumbers, and balsamic vinaigrette (pictured right). This sounds like something you would find in the pages of Bon Appétit or at a Junior League luncheon, not on a 10-year-old's cafeteria tray. But somehow, amidst the continued proliferation of fast food chains and endless snacks, we started raising little foodies. (Bertrand and Cooper feature grain salads daily on their salad bars as well, which seem to resonate wonderfully with their pupils.)
This transition in food preferences is no accident; it is the result of hundreds of hardworking men and women across the country who allow kids the dozens of taste tests needed to feel comfortable with a new food, and the educators who are incorporating more food lessons in the classroom. To help cultivate a palate for healthy whole grain foods, McClean conducts taste tests and leads a lesson in every class. (This is part of FoodCorp's overall mission of connecting kids with healthy food in schools). Additionally, for every taste test, the kids do a research project and make a poster about the featured food, and fun facts about the featured food are on the morning announcements. Similarly, in Colorado's Boulder Valley Independent School District, where Cooper works, the foodservice staff puts on 200 tasting events a year.
As Mellissa Honeywood, director of food & nutrition services at Cambridge Public Schools in Massachusetts, explained, "If we don't give kids an opportunity to try new healthy things – they will never try new healthy things. If you don't give them a chance to experience that, then that's a fault on us, it's not a fault on the kids because we never gave them the benefit of the doubt, we never gave them a chance to try something new. We are deciding for them that it's too difficult. We are deciding for them that they won't like it. Give them a chance.  You will see the changes in the students."
While the healthy standards for school lunches are currently under threat, many foodservice directors don't see any reason to back-pedal their offerings and go back to junk food.  Erin Primer, of the San Luis Coastal Unified School District in San Luis Obispo, California, tells a local NBC [2] affiliate that "Even if the rules change, we can still be more strict with our local rules."  
In a local news [3] report, Dorn Lindberg, of the Hamilton School District in Sussex, Wisconsin, explains that, "In general, the Hamilton School District has long recognized the importance of serving nutritious food to students. The district works proactively to implement food choices of the highest nutritional value that students enjoy. Our school lunch program did not see big drops in participation when the federal food standards were implemented because gradual changes had been made over time." Similarly, Sue Kirchstein, of Menomonee Falls School District in Wisconsin, tells reporters that "the older students really appreciate the whole wheat options."
If you value the health of the next generation, then encourage your local schools to keep moving forward, not backward, with foods that taste good and are good for kids, and hold your representatives accountable for prioritizing children's nutrition. For those working to provide healthy whole grain options to kids in schools, check out our foodservice recipe resources at the bottom of this webpage [4]. (Kelly)
Intro
A spelt salad with cherry tomatoes, feta cheese, cranberries, cucumbers, and balsamic vinaigrette sounds like something you'd find at a Junior League luncheon, not on a 10-year-old's cafeteria tray. But today's little foodies are surprising adults with how open-minded their tastebuds are.