We love data here at the WGC. Through data partnerships and updates from exciting conference speakers [2] and other contacts in our network, we keep our finger on the pulse of grain trends, jumping at any chance we get to help further spread the word about the taste and health benefits of whole grains. With access to a unique data set on Stamped product sales as well as the results of our new 2021 Whole Grains Consumer Insights Survey [3], we looked at the past year's trends. These data points paint an interesting picture of American purchasing habits and preferences. There are always changes in data from one year to the next, but this was no ordinary year. Saying the past 18 months have looked very different for many of us is a drastic understatement – so much about our lives have changed, including how and what we eat.
Consumption
The International Food Information Council's (IFIC) Food and Health Survey [4] found that 85% of respondents changed how they eat or prepare food in 2020. Though that number fell slightly to 72% in their 2021 survey, the resulting impact on how Americans prepare and eat food is still significant.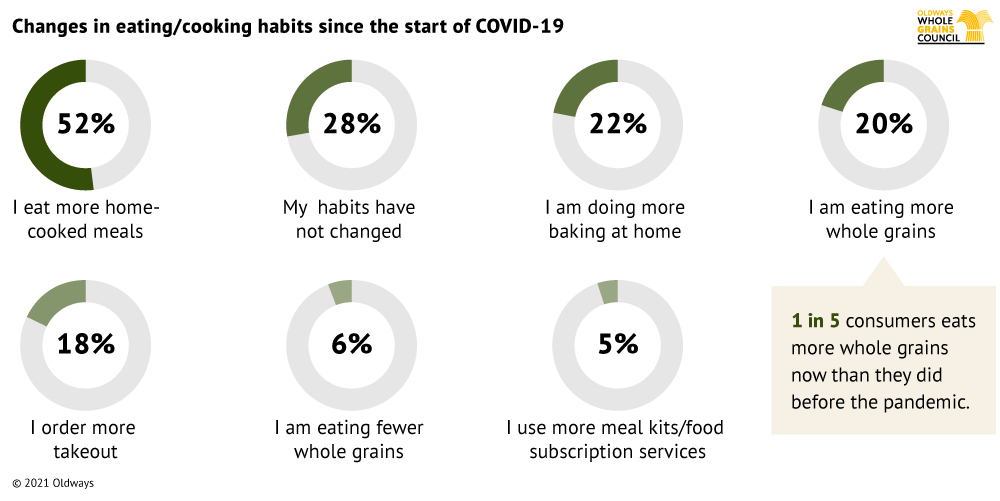 Our 2021 Consumer Insights Survey – as we reported last week [5] – gets at these changes on a more granular level, finding that half of American consumers [52%] are eating more home-cooked meals as a result of the pandemic. Add this to the fact that 88% of American say they are most likely to consume whole grains when eating at home (rather than at a restaurant, school, or cafeteria), and it is no surprise that 1 in 5 consumers report eating more whole grains now that they did before the pandemic.
Over half (59%) of all respondents to our 2021 Consumer Insights Survey report choosing whole grains at least half of the time, with an even higher percentage of younger consumers and parents meeting this threshold – Gen Z and Millennials choose whole grains 64% of the time and parents with young children choose whole grains 67% of the time.
PURCHASING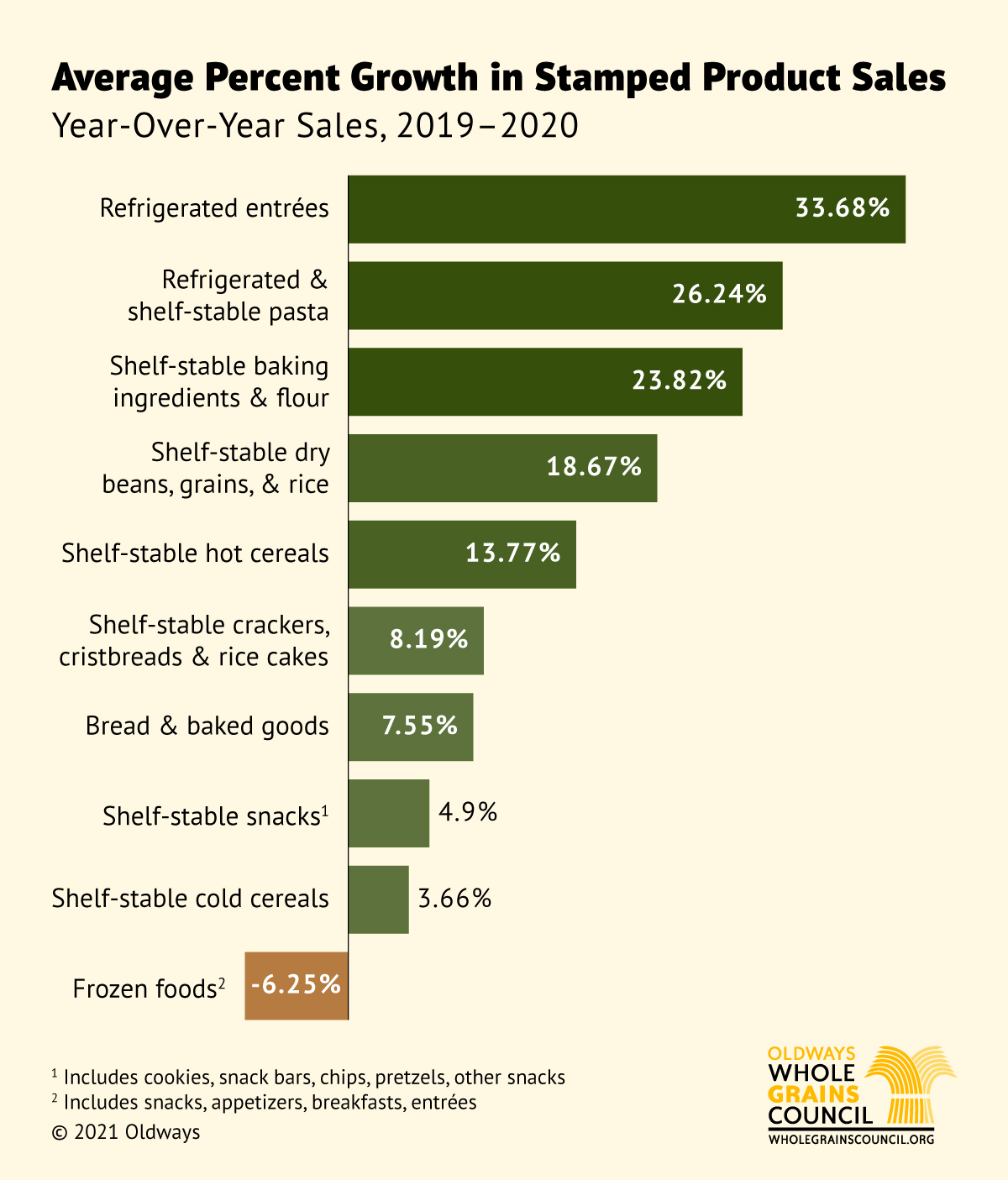 Whole grain food sales reflect the rise in whole grain consumption through the pandemic as well. Using sales data collected by SPINS [6], we looked at the 52-week year-over-year sales growth of products using the Whole Grain Stamp in the US in 2019 vs 2020. In 2020, sales in Stamped product categories were up, almost across the board.
The Spring of 2020 carried with it a lot of unknowns. Empty shelves stared back at us at the grocery store, especially in the shelf-stable, pantry goods sections. Compared to 2019, shelf-stable intact grain products bearing the Whole Grain Stamp saw an 18% growth in sales in 2020. And of course, few among us escaped the alluring temptation of COVID baking trends. According to our survey, 22% of Americans started baking more during the pandemic. This trend was especially true of parents with young children, 28% of whom started baking more at home. Sales of whole grain flour and other baking items using the Whole Grain Stamp reflected this uptick in baking, with an increase in sales of almost 24%. (Check out our blog post on the increased interest in locally grown and milled flours. [7])
When asked to choose their favorite whole grain food, nearly 2 in 3 respondents in the 2021 Consumer Insights Survey answered whole grain bread or oats. This makes a lot of sense when you consider that Americans are more likely to eat whole grains at breakfast than at any other meal! Even with many respondents already accustomed to buying whole grain bread, sales of breads and other baked goods using the Whole Grain Stamp were up 7.5% in 2020 and the sales increase for hot cereals using the Whole Grain Stamp was almost double that, with nearly 14% growth.
Sustainability and diet
Plant-based diets and the idea of a sustainable diet has been a growing trend for some time, but these topics seem ever more front-of-mind as average temperatures climb, and wildfires rage, particularly against the backdrop of a pandemic which may have been made more likely by some of the same factors that cause climate change [8]. According to IFIC's 2021 Food and Health Survey, 4 in 10 consumers believe their purchasing decisions can have a significant to moderate impact on the environment.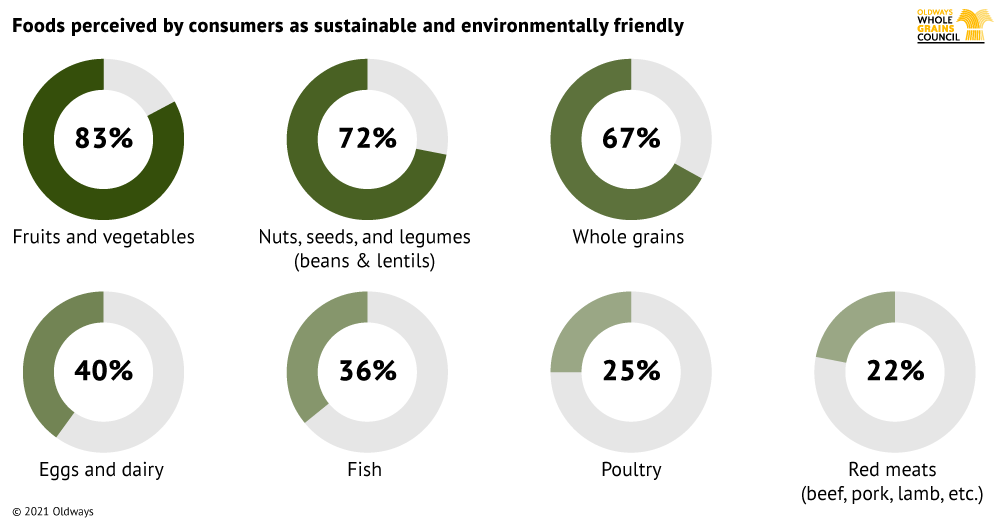 It is clear from the WGC's 2021 Consumer Insights Survey, that whole grains factor strongly in consumers' ideas of what a sustainable diet looks like. Sixty-seven percent of respondents think of whole grains as an environmentally-friendly food group, and a growing number of consumers cite sustainability as a motivating factor when purchasing whole grains.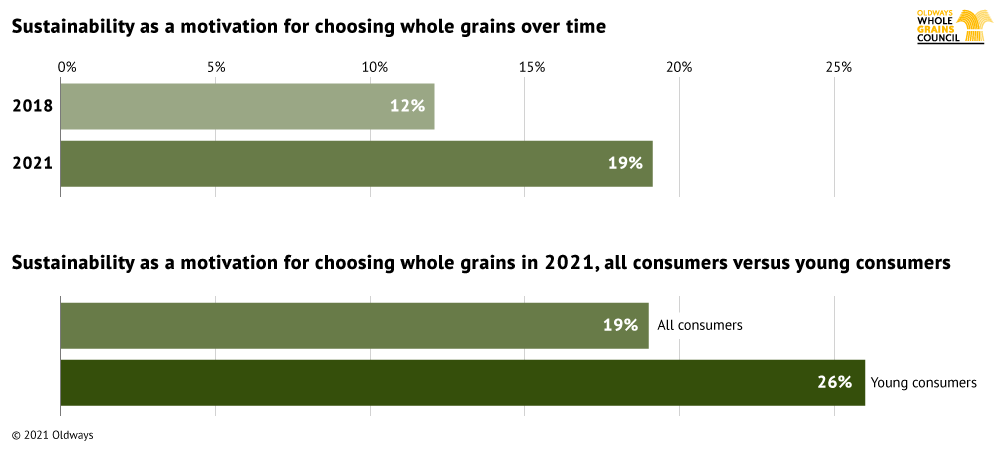 While there is no easy way to crown one grain most sustainable [9], many consumers seem to understand that whole grains as a category carry with them strong sustainability attributes. IFIC's Food and Health Survey found that of those who believe their purchasing decisions have an impact on the environment, grains are considered to have the smallest negative impact on the environment of all foods listed in the survey question.
How about you? How have your eating habits changed during the pandemic?  Tell us below and continue to stay safe and be well. (Abby)
Intro
The data of the past 18 months paints an interesting picture of American purchasing habits and preferences. There are always changes in data from one year to the next, but this was no ordinary year. So much about our lives have changed, including how and what we eat.