You like to grind your own coffee beans. You prefer fresh-squeezed orange juice, when you can get it. So why don't you mill your own whole grain flour?
That's the question that kept running through my mind as I put a mix of red wheat berries and barley into the hopper of a grain mill attachment on my kitchen mixer. The mixer jiggled the grain kernels into a set of compressed-stone wheels, and soon a thin stream of fine, tan flour fell into the mixer bowl.

I measured out three cups of flour, added yeast, warm water, olive oil and salt, and created a quick pizza dough. My husband, already fond of our favorite shortcut of using whole wheat flatbread as the base for our homemade pizzas, was dubious. "I was afraid it might be gummy," he admitted later. (Not all my kitchen experiments work out the first time.) "But it turned out thin and crispy, with a delightful crunch."
We're not the only ones sold on the delights of freshly-milled flour. Not long after we finished that first pizza, I learned that Wegmans, a supermarket chain in the mid-Atlantic and Northeast states, is now experimenting with milling its own flour. [2] Jo Natale, Wegmans' VP of Media, told us that baker Nick Greco is sourcing einkorn (an ancient wheat) and rye from local upstate New York farmers, milling it with a handcrafted mill from Austria, and making a special artisan einkorn rye bread.  

We asked Jo Natale how customers were reacting to the new bread – it's selling well – and whether they were drawn to it for reasons of taste or health. "We're not talking about this as being any healthier for you," she said. "Well, it's whole grain, so in that sense it's more healthy. But we're just telling people that it tastes great. That's the most important message. Plus our customers like to support local farmers."
Wegmans may have only recently bought into the idea of milling its own flour. But Roger Elkus, owner of Me & Ollie's Bakery [3] in Portsmouth, NH has been milling his own whole wheat flour since 1988. That's the year he opened his first bakery chain (Big Sky Bread Co.) in Ohio. Back then, he used a stone buhr mill, with two granite stones that crushed the grain. He had to learn to dress the stones – roughen the surfaces and deepen the furrows – when the grinding process regularly smoothed them out over time. 
Ten years later, in 1998, Elkus moved to New Hampshire and started Me & Ollie's Honest Bread, still milling his own whole wheat flour every morning before baking. Only this time Elkus bought a hammer mill, which uses a series of metal tines to beat the wheat berries until they're small enough to go through a screen. His hammer mill keeps the flour even cooler than the stone mill – an important consideration in conserving nutrients in the flour – plus there's virtually no maintenance; he doesn't miss his old task of dressing out the stone mill wheels. 
Why bother milling fresh at all, though? Elkus's voice became passionate as he described the flavor difference: "There's a sort of liveliness, a depth of flavor, in freshly milled flour that's just not there in commercial flour. Once, we did a side by side comparison test of our oatmeal chocolate chip cookies, because I couldn't imagine – with all those other flavors going on – that the flour would matter. We baked a batch with freshly milled whole wheat flour and another with good quality commercial flour – and the difference blew me away!"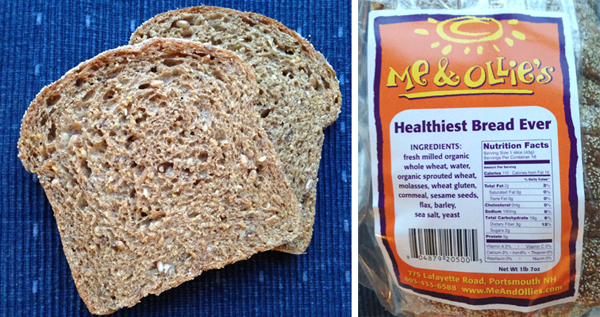 We can vouch for the flavor difference. Me & Ollie's "Healthiest Bread Ever" is the staple daily bread we eat in our family. As you can see on the label above, it includes nothing but great honest ingredients – nothing unpronounceable.
Are you curious about the difference between fresh-milled flour and store-bought? Consider buying a stand-alone grain mill or an attachment for your kitchen mixer. Or see if someone's baking bread with fresh flour near where you live. Here are just a few other examples we found with a quick Google. Just-in-time milling is definitely a growing trend! (Cynthia)
Baker Miller [4] (Chicago)
Josey Baker Bread [5] (San Francisco)
Tabor Bread [6] (Portland, OR)
Spring Mill Bread [7] (Washington DC area)
Miller's Bake House [8] (Yankee Hill, CA)
Bellegarde Bakery [9] (New Orleans)
Farm & Sparrow [10] (Asheville, NC)
Moving Meadows Farm [11] (Culpeper, VA)
Elmore Mountain Bread [12] (Elmore, VT)
Credits: MockMill demo unit courtesy of Wolfgang Mock [13]; Osttiroler mill photo courtesy of Osttiroler Getreudemühlen [14]; Wegmans einkorn/rye bread photo courtesy of Wegmans [15]. All other photos are Oldways photos.
Intro
More and more people are milling their own flour these days, so we had to try it for ourselves. Mmm... mmm... good.