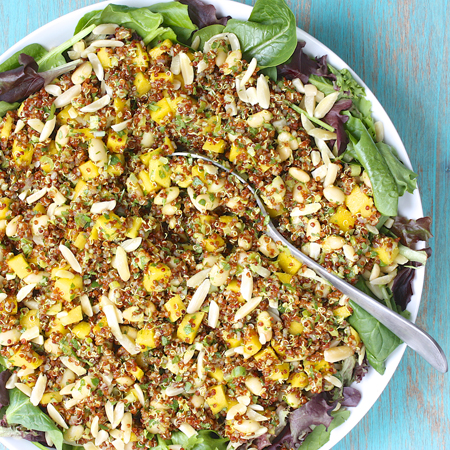 When we eat quinoa, are we taking it out of the mouths of Bolivian and Peruvian peasants? That's the controversy that's been raging for several years, discussed in articles with headlines like "How many Bolivians are dying because foodies love quinoa [2]?"… "The dark truth about quinoa [3]"… and "Quinoa's global success creates quandary in Bolivia [4]." As we close out Quinoa Month [5] here at the WGC, a new study suggests we can eat quinoa with a clear conscience.
But first, some background. It's true that global demand for quinoa has turned this little protein powerhouse from an inexpensive staple for poor people in the Andes, where it's been grown for at least 7,000 years, into a much more expensive export product for both Peru and Bolivia. We've been asked about this question often by the media, and have always pointed out that the issue's not so simple. While poor city-dwellers may be impacted by rising quinoa prices, formerly-poor farmers may be benefiting [6]. If we all stopped eating quinoa, we could be benefiting the urban poor, but sending those farmers back to a hard-scrabble existence.
And other factors are also at work in moving Peruvians and Bolivians away from quinoa – the same globalization-of-food trends seen around the world. As the UK's Guardian reported in an article titled "Quinoa brings riches to the Andes [7]," even quinoa farmers are eating less quinoa. "Ten years ago they had only an Andean diet in front of them. They had no choice. But now they do, and they want rice, noodles, candies, coke, they want everything." University of Colorado anthropologist John Brett [8] found that a family member not liking quinoa is a top reason that Bolivian families don't buy it, along with cost. While it can be heartbreaking to see junk food take the place of traditional diets, western health food shoppers aren't to blame for this global nutrition transition.
It's not only a matter of choice, but a matter of economics, too. For instance, a study in the city of El Alto, Bolivia found that imported refined-wheat crackers cost half the price of quinoa cookies/cakes, as many processed industrialized foods are subsidized, keeping prices artifically low. This excellent academic report [9] from Paula Capodistrias at the Norwegian University of Life Sciences summarizes many of the factors at work in this complex issue. That said, not all quinoa is being lost to high paying American consumers. Bolivian government nutrition programs [10] incorporate quinoa into the school breakfast program and new mothers subsidies.
Now a new voice has weighed in. As explained in this VOX article [11], agricultural economist Marc Bellemare had noticed the slings and arrows zapping back and forth about quinoa's ethics and decided to do what agricultural economists do: look at who's winning and who's losing from quinoa. Three years later, his study "Foods and Fads – The Welfare Impacts of Rising Quinoa Prices in Peru" [12] has been published. In it, he concluded that not only quinoa farmers had benefited from the export boom, but quinoa eaters had come out ahead too. 
"I think the overall lesson here," Bellemare said to VOX, "is that before we make any claims about the effect of changes in our eating patterns, we really need to look at the data rather than speculate in ways that could be counterproductive. Because if we had actually boycotted quinoa, as some people were suggesting at the time, that wouldn't have benefited these households — at least according to our study."
Ready to enjoy some quinoa today? Don't forget it's Whole Grain Sampling Day [13]; make sure to #SampleWholeGrains. As our list of partners shows [14],
Ancient Harvest Quinoa is giving away samples of quinoa on their Facebook page

Boloco restaurants are offering samples of quinoa in 17 locations in New England

Dave's Marketplace (a supermarket with 7 locations in Rhode Island) will sampling quinoa, farro and wheatberry grain dishes from their prepared food cases

Providence Hospital in Washington, DC will entice customers with deliciously prepared samples of quinoa
Or create your own quinoa-sampling event at home, with recipes like our traditional Cashew Quinoa [15], or Chilled Avocado and Red Quinoa Soup [16]. Happy Whole Grain Sampling Day! (Cynthia)
Intro
If I eat quinoa, am I hurting or helping farmers in Bolivia and Peru? The answer's complex, and the details may interest you.