Here on the East Coast we're in the height of summer. With temperatures creeping up into the 90's, the last thing that I want to be doing is cooking every night in my tiny Boston apartment. To help keep me out of the kitchen and enjoying the sunshine, I rely on a simple, versatile mealtime staple: grain bowls.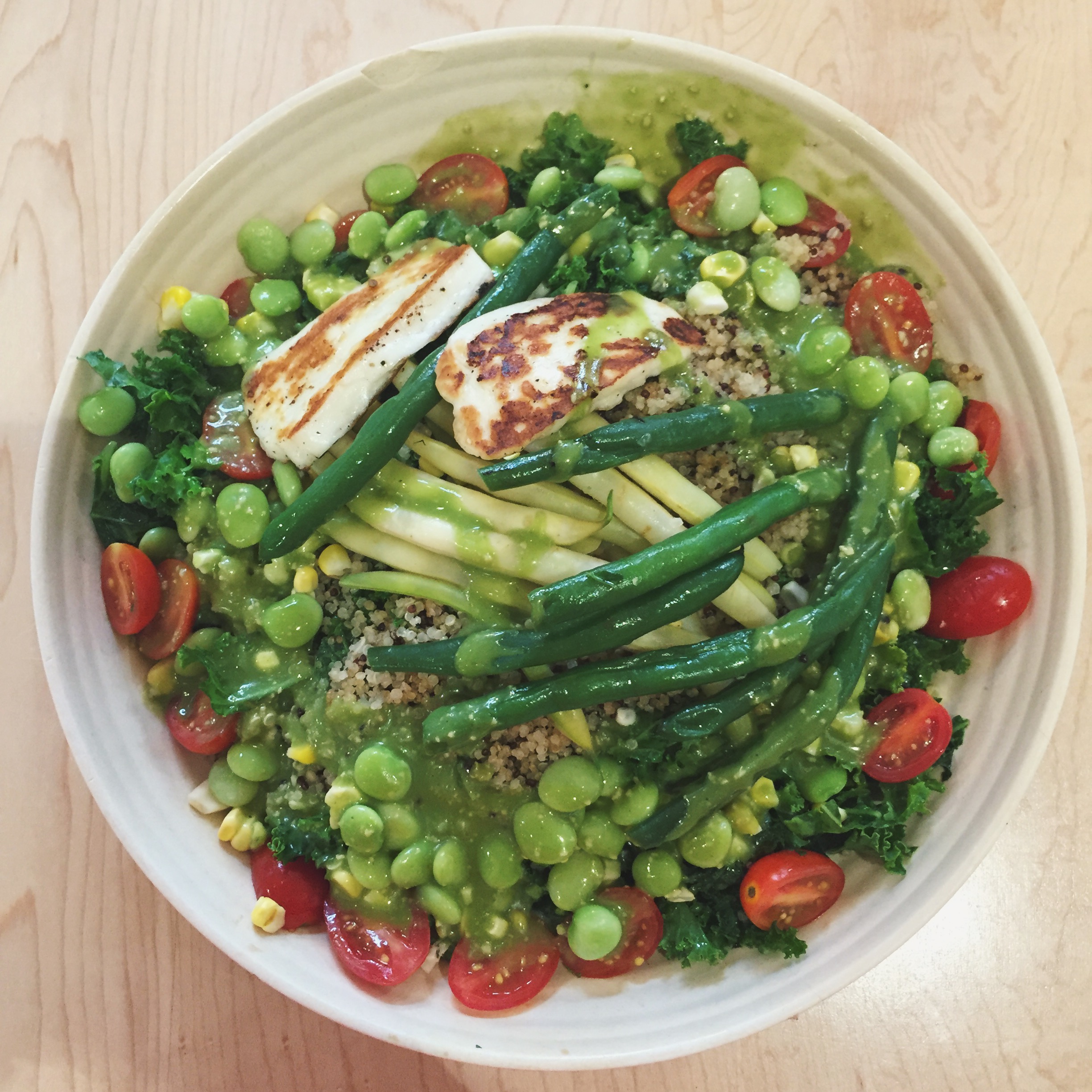 One of my go-to meal prep game plans is to cook up a few types of grains at the beginning of the week to be used in various grain bowls throughout the week for both lunches and dinners. The beauty of the grain bowl is its ability to become anything you want it to be. By using the grains as your base, you can mix and match vegetables, herbs, cheeses, nuts and seeds, topped with different sauces to create a unique experience at every meal. You can make them ahead of time to have ready to go, or you can construct them on a whim using the pre-cooked grains to save time creating a quick and healthy meal.
I have two grain bowl recipes that I revisit often, enough to make it into the rotation a few times a month. Heidi Swanson's Kale Rice Bowl [2] from 101 Cookbooks is one of my very favorite recipes. It is super simple, but incredibly satisfying with brown rice and poached egg. It's the sole reason I keep my cabinet stocked with za'atar and sesame seeds! My second go-to grain bowl creation comes from Angela Liddon's Oh She Glows – Lightened Up Protein Power Goddess Bowl [3]. Wheat berries and lemon-tahini dressing are two things that I love, so this became a favorite right away.
If you prefer to eat out for lunch, you can still join in on the grain bowl trend [4]! There are so many places now serving up tasty grain bowl options, it can be hard to choose where to go. From creative grain salads at Sweetgreen [5] and b.good [6], to quinoa broth bowls at Panera and brown rice burrito bowls at Chipotle and other eateries, there is hardly a city coast to coast untouched by this trend. And if you happen to be in-between coasts, perhaps in Minnesota, you can even learn to create your own restaurant-worthy grain bowls with chef Robin Asbell in her Buddha Bowls class [7] at the Cooks of Crocus Hill Edina, Minnesota location on August 23rd at 6pm.
Chef Asbell has been showcasing [8] some of these delectable designs on her Instagram account in preparation for this event, and we'd like to follow her lead. To celebrate all the delicious healthy grain bowls out there right now we are holding a week-long Instagram challenge from July 27th through August 3rd. Follow Oldways [9] (@Oldways_PT) and share your best grain bowl photo with the hashtag #GrainBowlSummer to be entered to win a copy of Chef Asbell's Whole Grain Promise [10].
We can't wait to see what you're enjoying!
(Harley)
Intro
The beauty of the grain bowl is its ability to become anything you want it to be.