The incredible taste and complex flavor of whole grains is a theme [2] that comes up over and over again these days. And when it comes to maximizing the flavor and aroma of whole grain flour, nothing compares to freshly ground! We've written before [3] about the trend toward fresh milling – in fact it was our most popular blog post written in 2016 – and the trend continues to build momentum. We checked in with a few of the folks pushing to make fresh milling and local flours more widely available.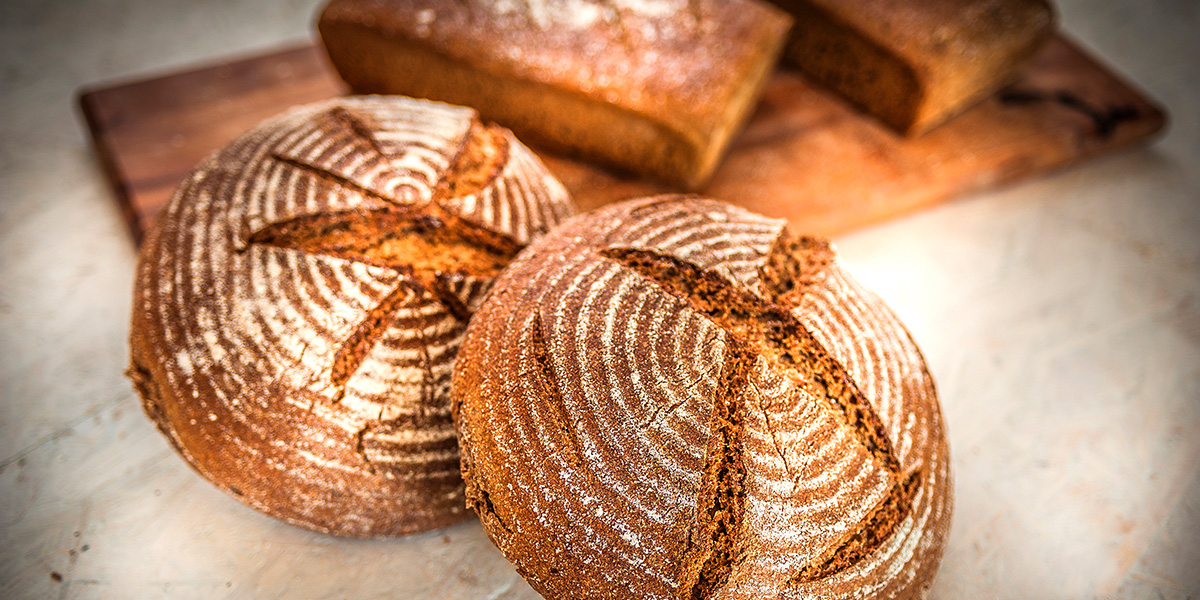 Many farmers use a variety of grains and legumes as cover crops or in rotation with the crops they grow as their main source of income. Increasingly, farmers are seeking ways to market these cover crops in an effort to make their occupation economically sustainable. Amy Halloran, author of The New Bread Basket [4], is working hard to strengthen regional grain economies and restore value to local varieties of staple crops by connecting farmers, breeders, millers, bakers, brewers and chefs.  
Amy recently launched her Flour Ambassador [5] campaign to raise awareness about fresh flour, local grains, and whole- and alternative-grain baked goods. By proudly displaying her badge and using the tag #flourambassador in their social media efforts, everyone involved in the grain economy – including home bakers – can call attention to the "flavor, nutrition and heart" of local grains.
But wait – there's no old-timey gristmill in my neck of the woods, you're saying. Where can I get fresh-milled flour? In your kitchen, perhaps.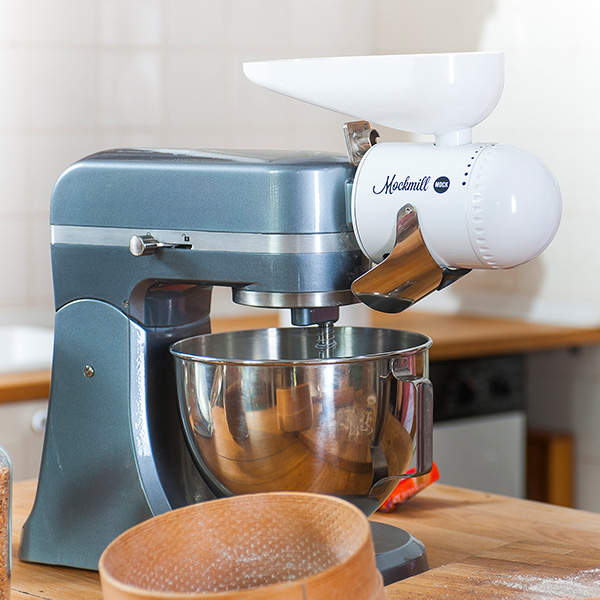 Celebrating the flavor and nutrition of freshly ground grains is precisely what sparked Wolfgang Mock's mission to engineer a stone mill for household use. In creating the Mockmill [6], a stand-mixer attachment that grinds grains, beans, or spices right into the bowl of the mixer, Wolfgang hoped to empower people to grind their own flour by giving them the tools to do it in their own kitchen. Whole grains are full of proteins and vitamins and they are at their peak when they are still sealed up inside their intact grain or just after they have been "unpacked" by being ground into flour. Grinding your flour "just in time" also allows you to capture the intensity of aromas and flavors characteristic of each grain, which makes for incredibly tasty bread!
Most of the flour you find in your grocery store has been ground from a few widely-grown varieties of wheat – varieties that deliver high yields and are easy to mill industrially. But there has been a recent resurgence of farmers growing heritage, heirloom varieties of grains like wheat, barley and rye that are grown with taste and baking quality in mind. Having access to a mill is a crucial part of working out the logistics of turning those local grains into something that can be sold, consumed and enjoyed throughout a community or region.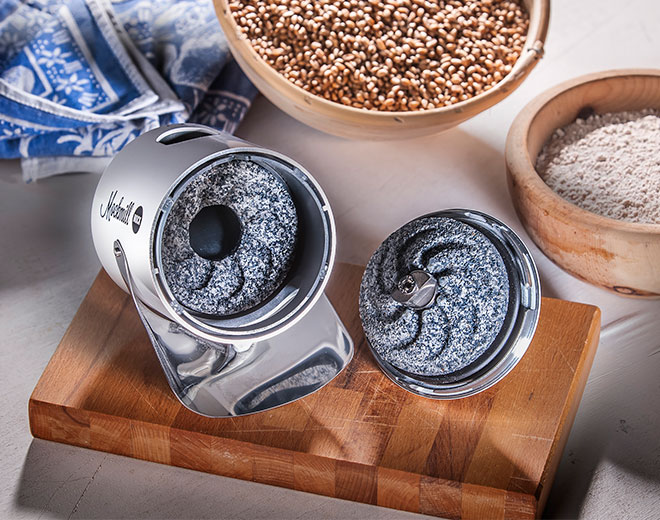 At-home mills, like the Mockmill, close this gap and help support a more vibrant "micro food system," as Paul Lebeau, Mockmill's Managing Director, calls it. Paul hopes that as the home-milling trend continues to gain traction we will see more Farmers' Markets with local grain offerings, where consumers can buy small amounts of five or six different fresh grains at once – something they might never do if required to buy entire bags of each grain's flour. He hopes this will make room for farmers to grow a larger diversity of crops and for consumers to enjoy an increased diversity of flavorful and nutritious grains. 
Food enthusiasts appreciate and celebrate the flavor of coffee beans and wine grapes grown in all different regions of the world. It seems only natural that the rapidly growing interest and enthusiasm for whole grains that we've seen over the last ten+ years would bring with it a desire and market demand for more differentiated grains and regional distinctions in taste!
The Whole Grains Council joyfully joins Amy, Wolfgang, and Paul in the call for more fresh, local, whole-grain flour. If you love flour and whole grains as much as we do, join Amy in taking her Flour Ambassador pledge: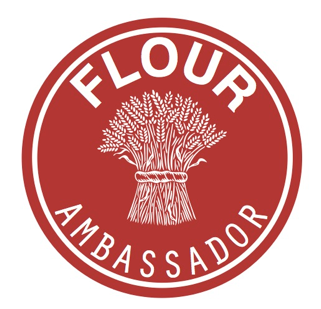 I do solemnly, happily swear,
that I am going to tell everyone I see
that IT'S OKAY TO LOVE FLOUR!
Bread is not poison.
Invisibility is poison.
I will try to make visible
all the labor in bread,
from seed to mill, from mill to loaf.
Mills are the levers farmers need
to get more interesting grains in the ground, and on our tables,
and under our butter.
Because butter is terrific and bread is our family tree.
It is time to put the family pictures back in the album,
put the album back on the mantelpiece,
and get acquainted with grains and flour again.
Then, once you've taken the pledge (yes, recite it out loud!), use the #FlourAmbassador hashtag when you post photos of your baked goods on social media, and/or proudly add the Flour Ambassador graphic to your images. (Caroline)
Intro
When it comes to maximizing the flavor and aroma of whole grain flour, nothing compares to freshly ground. We checked in with a few of the folks pushing to make fresh milling and local flours more widely available.