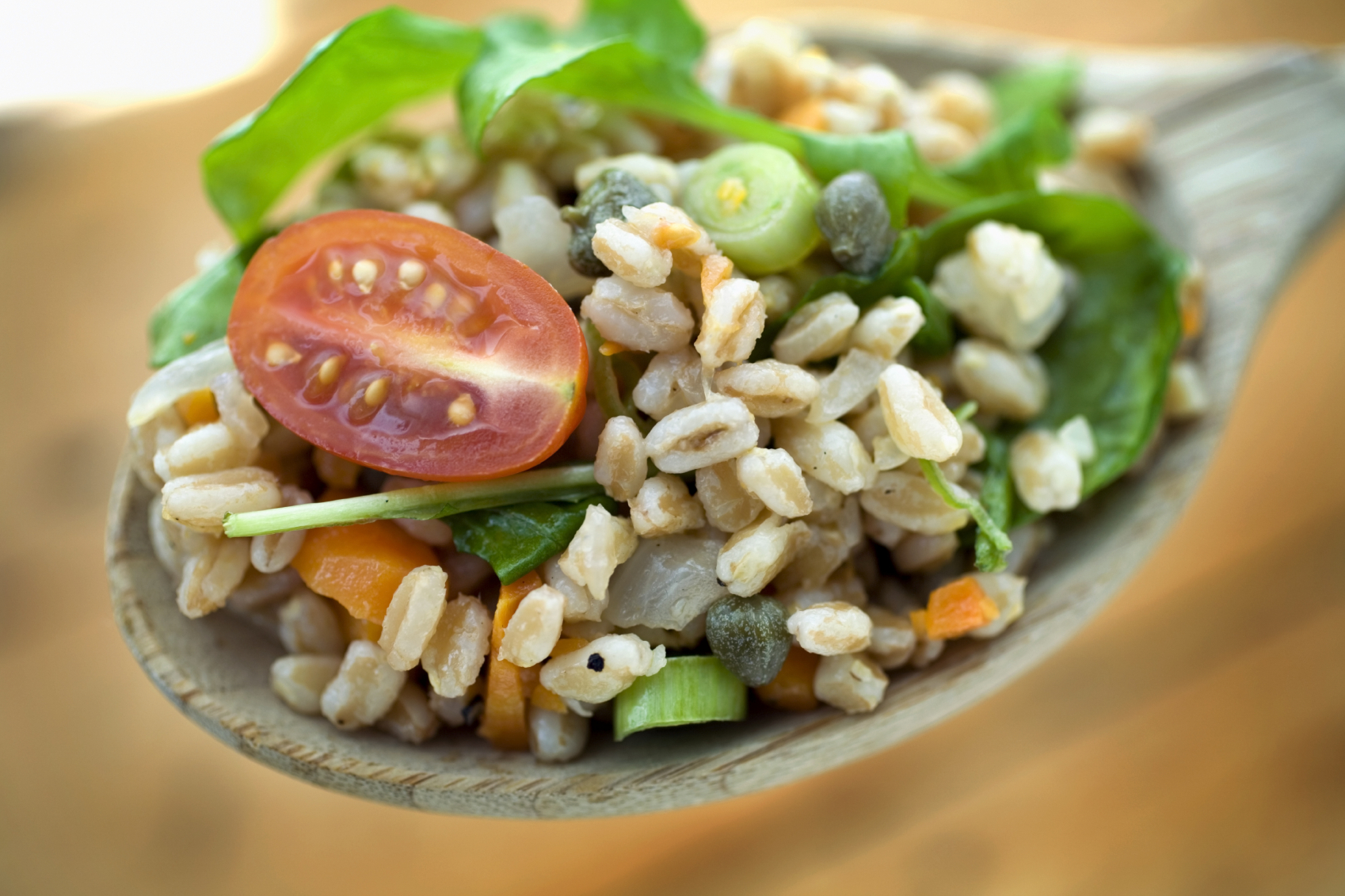 Here at the WGC, we have lots of tips to help you cook with more whole grains, no matter what foods you're craving [2]. And as the summer solstice brightly hovers on the horizon, we'd like to highlight a summer favorite of ours – grain bowl salads. Summer is a time to sweat it out at the pool, beach, or field – not over a hot oven or stove (unless that's your thing!).
Whether you are well-versed in whole grains or have only dappled in whole grain cooking, cold grain bowls are an accessible, healthy way to sustain you [3] through any summer activity. They serve as the perfect canvas for a bright, flavorful array of local vegetables, and offer the hungry chef endlessly customizable options.
Follow along with these easy guidelines and let your imagination flourish!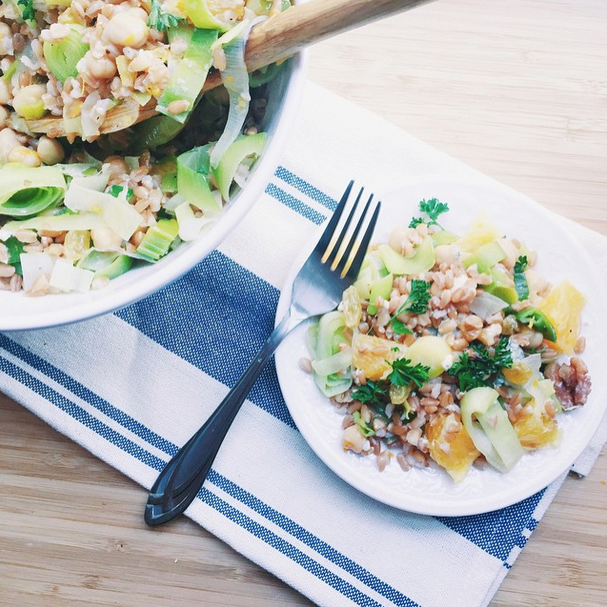 CHOOSE YOUR GRAIN
If you've never tried your grains cold, you may want reconsider. The texture and distinct nuttiness of whole grains really shines after they cool off. If you have a go-to grain for your standard steamy meals, stick to it! Otherwise, close your eyes and land at random on our grain list [4], or give sorghum – June's grain of the month [5] – a try. Whole grain pasta varietals add depth to pasta salads, and soba noodles make a wonderful base for an Asian-inspired meal.
Once you've picked a grain base, cook a big pot to ensure you have extra. The leftovers can be stored in the fridge for up to five days, or they can be frozen in ziplock bags for up to three months. We like to consider these tasty leftovers new beginnings – the starting point for your next creation. Simply switch up the accoutrements, and you've got yourself a unique meal with minimal effort.
Whichever grain you decide upon – whether a fan favorite or a new discovery – we have tips to guarantee your foray into this delicious food genre is a success. From storage [6] suggestions to cooking instructions [7], we are here to ensure you achieve that perfect bite.
PROTEIN
Once you have your base, the options are endless. Whether your protein-of-choice is grilled chicken, marinated tofu, a hard-boiled egg, or even a handful of nuts, it's hard to go wrong. Sweet Italian sausage tastes amazing with whole wheat pasta, especially with a bright red wine vinaigrette. Or, if you're looking for a little Mediterranean flair, it's the perfect time to make use of that extra cans of beans in the back of your cupboard!
VEGETABLES & FRUITS
Grain bowls are the perfect way to highlight the plethora of fresh, local goods available at this time of year. Faithful to the theme of minimal effort and heat, we often stick with pickled or raw veggies. Pickled onions, in particular, can be made in a flash, and are a favorite grain bowl addition; they add just the right amount of kick to brighten up a dish. If you don't mind turning on the stove, blanching your veggies is another easy prep option: three minutes, covered, in about a half inch of boiling water does the trick.
And of course, what would summer be without fruit? We love the combination of watermelon and farro, or barley and peaches. Be creative and find your favorite pairing, and if you find a winning combination, make sure to let us know in the comments below!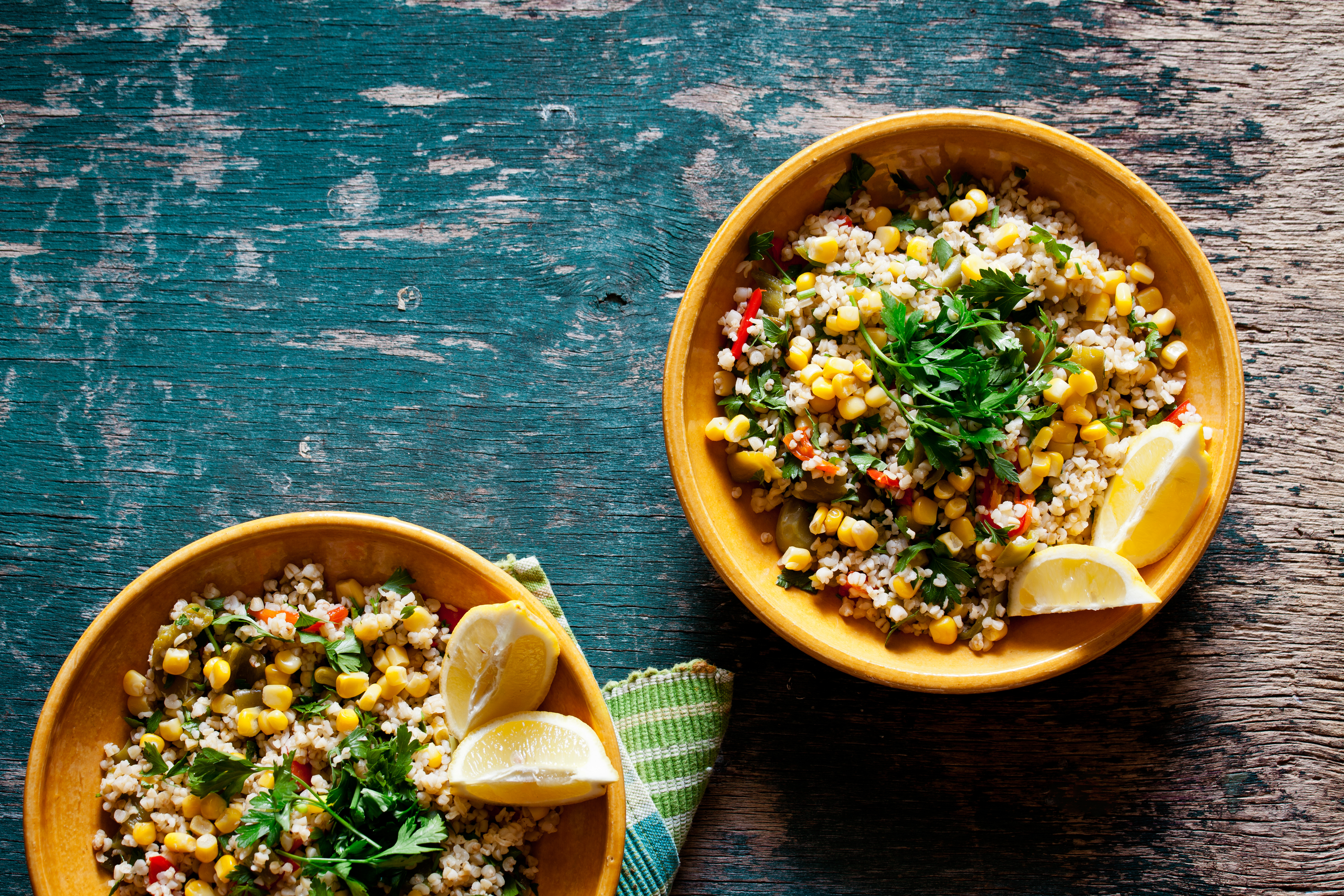 DRESSING
Now it's time to pull the whole thing together. A tasty dressing is a great way to moisten up your grains and create coherent flavor. Any vinaigrette will do, whether it's homemade or store bought, so go ahead and use whatever you have on hand. If you're making your own, we recommend a ratio of one part vinegar to three parts oil. For a creamier dressing, mustard or tahini make a great additions, and we like adding a few dashes of hot sauce for a little extra kick. Taste as you go to achieve the perfect balance.
Make sure to comment below with your favorite combinations, and happy experimenting! (Abby)
Intro
As the summer solstice brightly hovers on the horizon, we'd like to highlight a summer favorite of ours – grain bowl salads.