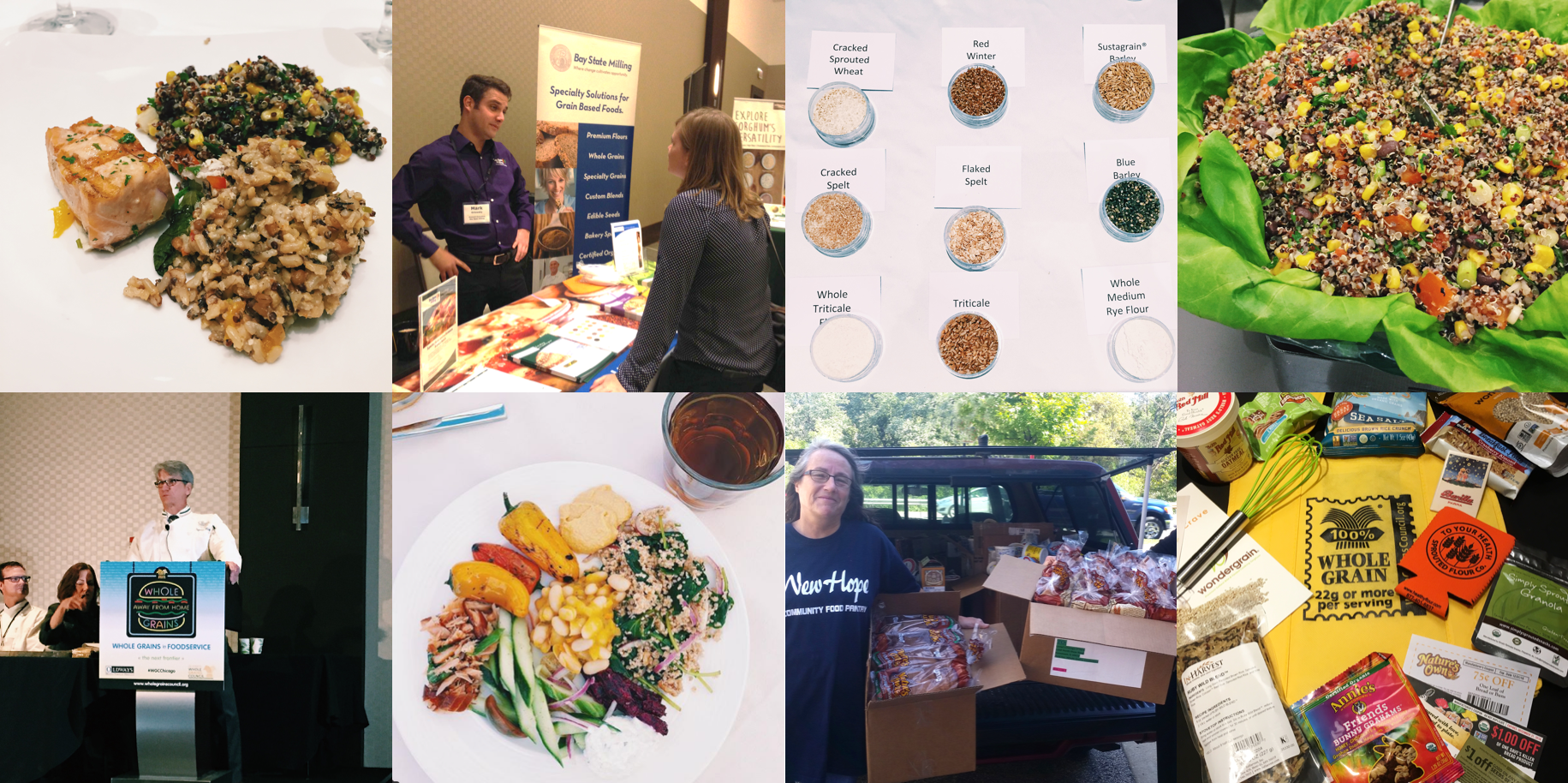 For more than 25 years, Oldways has had a reputation in nutrition and health circles for conferences offering a unique mix of delicious food, cutting-edge science, and personal interaction. Learn more about just what makes our conferences special, then register for our upcoming event [2] and experience the magic firsthand!
The Food
Food and nutrition conferences are an exciting time to stimulate ideas, network, and turn evidence into action. And nothing kills the buzz faster than being served ghost-white bread and giant sugary pastries. After all, isn't the conference the place that's supposed to inspire you? At Oldways, we practice what we preach, and our menus are the place where this really comes alive. Attendees joining us at our upcoming Whole Grains Council conference [2] will get to taste creative applications of whole grains, such as gremolata salad bowls made with purple barley and spelt, sprouted whole wheat pumpkin muffins, sorghum and vegetable "fried rice," black rice acaí shakes, a lemon mint freekeh salad, whole grain peanut butter smoothies, and much more! Plus, we'll be sharing the recipes in the attendee program book, so that you can recreate the dishes at home.
The networking
Oldways conferences are usually small, with the emphasis on quality of participants rather than quantity. With an average of 120-150 key influencers [3]participating, our conferences are big enough to have enormous ripple effects, reaching large masses of people. But they're also small enough to be renowned for their networking opportunities: dietitians and doctors are able to ask questions directly of leading researchers, and manufacturers may find their products featured in the Los Angeles Times or Good Housekeeping, or on a leading food blog or TV show. Additionally, because we work with people across all levels of the food system, from small producers to millers to retail and foodservice, there is ample opportunity to meet new and existing clients.
The information 
We tap our extensive network of industry leaders and experts so you can learn from the best and network with them. While we feature the latest research, our sessions are never dry and academic – we pick speakers at the top of their fields who know their subjects and know how to make that subject come alive. All attendees also receive a complimentary program book of relevant whole grain statistics, trends, nutrition research, and culinary tips, to add context to the discussions, and further your learning once the conference is over. Because of the caliber of our presentations [2], our conferences are also approved for CPE credit for Registered Dietitians.
The extra details
Oldways conferences [4] are a unique blend of solid science and culinary craft, and the extra details help bring it all together. Looking for a local restaurant that serves delicious whole grain dishes to try while you're in town? We can point you in the right direction, as we've collected recommendations from local food experts. It's one thing to hear that whole grains are heart-healthy – and another to drive that message home by serving fragrant whole grain cranberry orange muffins, or an herby ancient grain salad. To pay it forward, we donate leftover conference food to local food pantries whenever possible.
Of course, the best way to find out what makes our conferences special is by experiencing them firsthand. Check out the full agenda for our upcoming Oldways Whole Grains Council Conference [2] in Seattle, November 4-6, 2018, then register today [2], before it sells out! (Kelly)
Intro
For more than 25 years, our conferences have been praised for offering a unique mix of delicious food, cutting-edge science, and personal interaction. Find out what makes our conferences so special, and see what we have in store for you in Seattle next month!