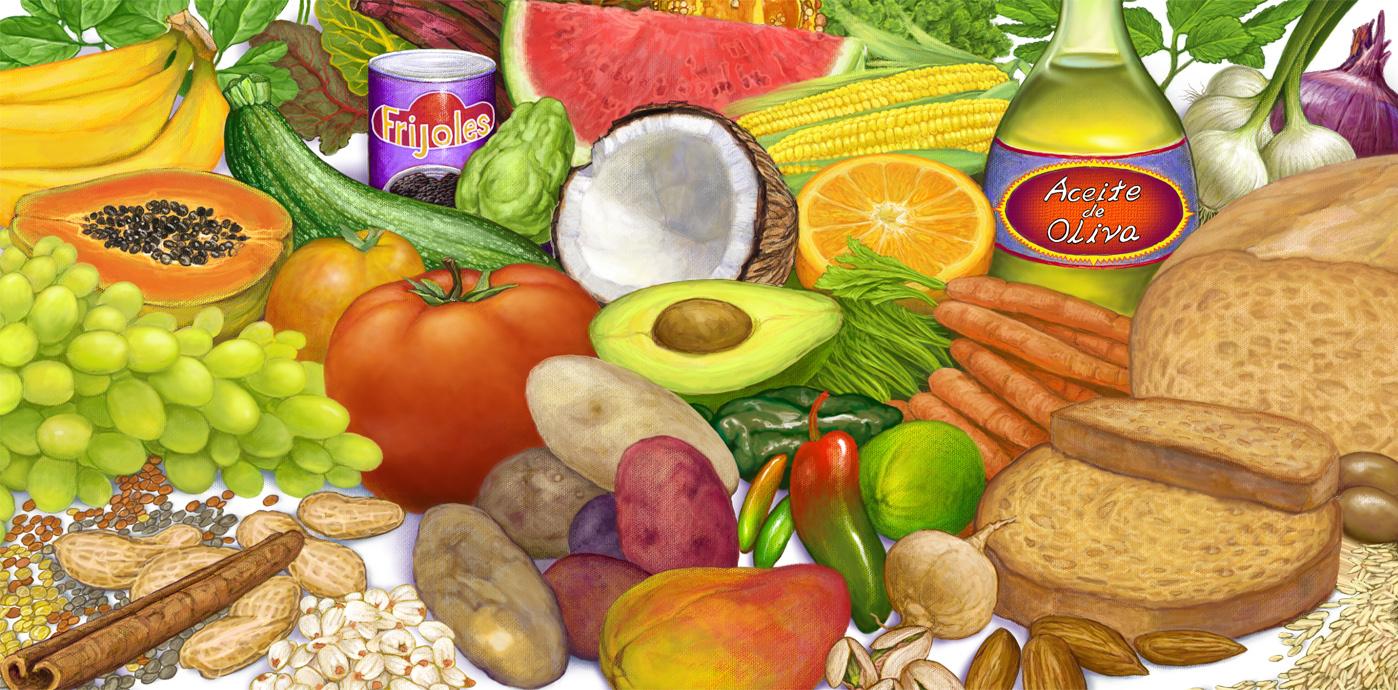 As rates of chronic disease have risen over the past several decades, there has been growing global interest in the connections between diet and health. Nutrition research has deepened our understanding of whole grains' positive impact on health outcomes [2], which has resulted in rapidly growing momentum from consumers, manufacturers, and government officials toward increasing whole grain consumption. 
One indicator of this momentum can be observed in the growth of our Whole Grain Stamp [3] program over the past 14 years. Today our Stamp appears on more than 12,000 products sold in 61 countries around the world – in fact, 25% of products registered for the Stamp are available outside the US. 
Global Whole Grain Stamp Growth 2005 — 2018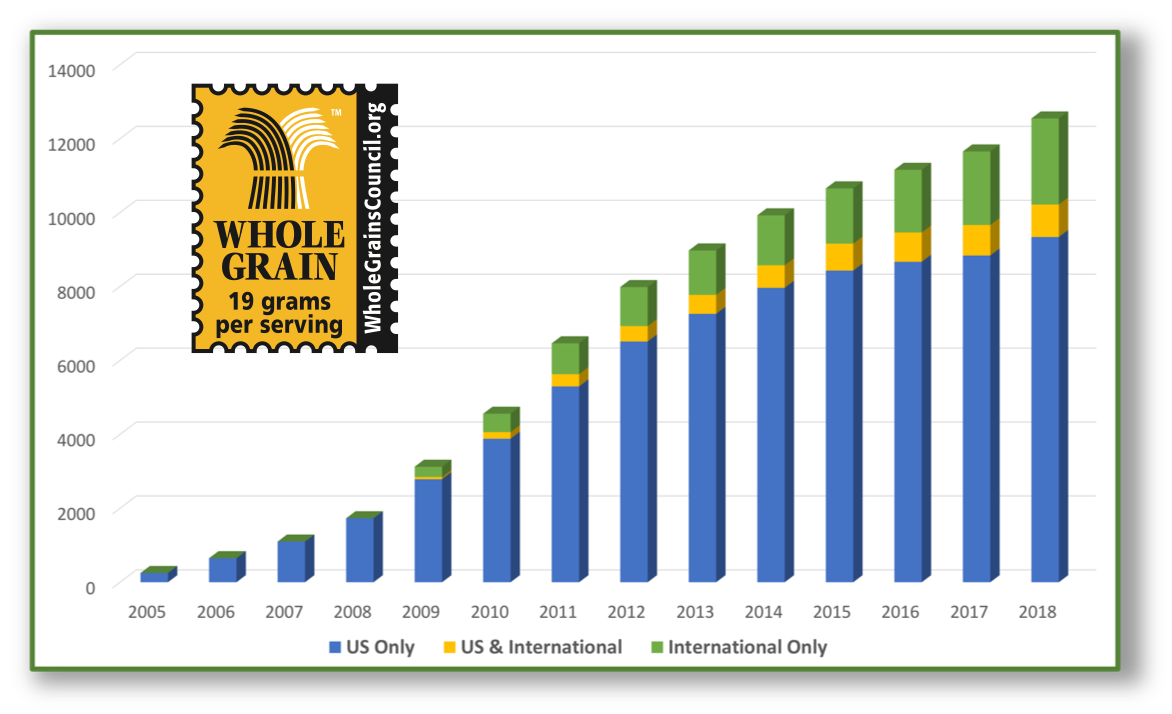 In 2010, Mexican-based Grupo Bimbo [4], the world's largest bakery company, began introducing the Whole Grain Stamp in Latin America. In many of these markets, Grupo Bimbo's efforts were the first to introduce the concept of whole grain. They created websites tailored to local populations explaining the health benefits of whole grains, and aired TV and radio campaigns in a push to raise consumer awareness. Since those early days launching the program, Stamp use has taken off. Today there are more than 1,200 products using the Stamp in Latin America and we have 29 member companies based in this region. 
Latin American Whole Grain Stamp Growth 2010 — 2018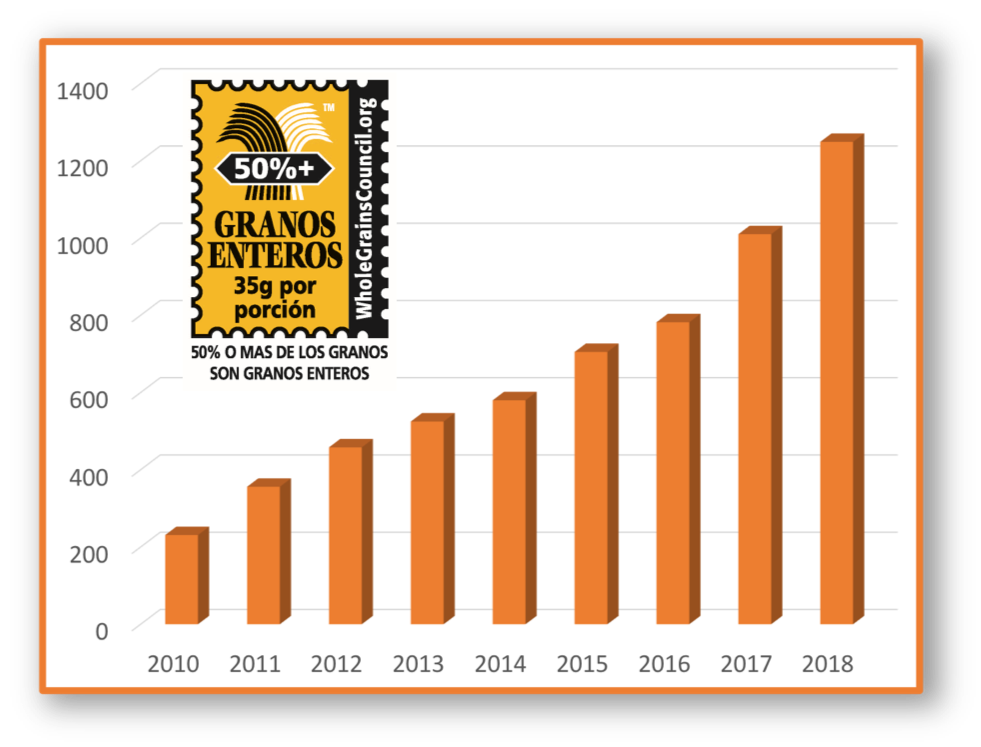 At our recent 2018 Whole Grains Conference in Seattle [5], Bruna Tedesco, Head of Marketing & Innovation at Bimbo Brazil, presented on the ways that health and wellness are driving consumer trends in Brazil and other Latin American countries. As consumers are becoming more food-conscious and globally-integrated, global trends are catching on more quickly and the movement toward whole grains has been gaining momentum. Consumers are, "increasingly looking for products with 'healthy' appeal, with the goal of having a better life, through a better diet," Bruna told us. 
When it comes to whole grains specifically, Bruna says consumer behavior and demand has changed significantly over the last decade. For example, consumption levels of whole wheat bread are 6.5 times higher than they were ten years ago. And more broadly, sales of what Bimbo categorizes as "healthy foods" have increased 98% over just five years. When asked which attributes consumers are seeking when making purchasing decisions, Brazilians rank "whole" ingredients (including whole grains), "high fiber" foods, and products that contain "100% natural ingredients" highest. 

Grupo Bimbo isn't the only company that's noticed an increased interest in whole grain products and ingredients in Latin America. California-based Sunnyland Mills [6] has been producing premium-quality bulgur since 1935 and has a long-standing relationship with an importer in Colombia who purchases bulgur in bulk to be repackaged and sold throughout the region. Mike Orlando, co-owner of Sunnyland Mills, told us that recently they've been getting sales and inquiries from new companies as well – in the Dominican Republic, Brazil, Panama, and Costa Rica. They also have a relationship with a Canadian exporter who has started selling their bulgur in Chile. 
Mike attributes this growing interest to a combination of factors. Bulgur is a quick-cooking form of whole wheat that has its roots in the Middle East and Mediterranean region. For a long time, much of the demand for bulgur in Latin America has been driven by the large Middle Eastern immigrant populations living in countries like Brazil, Argentina, Venezuela, Colombia, Mexico, and Chile. Here, bulgur has been used to make traditional dishes like tabouleh [7] and kibbeh [8].
More recently though, growing consumer awareness of the many health benefits of whole grains is encouraging more manufacturers to think about incorporating whole grains into more of their products. Companies who are embracing the movement toward healthier, plant-based eating are beginning to use bulgur in their vegetarian and meat-alternative dishes. And an importer in Brazil told Mike that Brazilians are, "awakening to the important of whole grains in the diet," which has led his company to work on incorporating ingredients like bulgur into their bread offerings. 
From the United States to China to Brazil and beyond, we're thrilled to see the evidence of so many people around the world rediscovering the goodness of whole grain ingredients. (Caroline)
Intro
As rates of chronic disease have risen over the past several decades, there has been growing global interest in the connections between diet and health. In Latin America, health and wellness are driving many consumer trends, and as consumers are becoming more food-conscious and globally-integrated, the movement toward whole grains is gaining momentum.