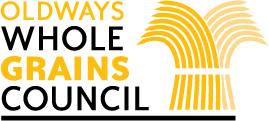 ---
Preheat oven to 350°F (180°C or gas mark 4).
In a small bowl, combine flour, baking powder, and salt; set aside.
Melt butterscotch chips and butter. Cool for 5 minutes. Add brown sugar, eggs, vanilla, and cereal. Blend in flour mixture.
Spread mix in 8"x8" (20x20 cm) pan and bake for 30 minutes or until toothpick comes out clean. Cool before cutting into 2" (5 cm) squares.
 
Ingredients:
1 cup (120g) whole wheat pastry flour
1 tsp. baking powder
½ tsp. salt
½ cup (85g) butterscotch chips
3 Tbsp. butter
1 cup (200g) brown sugar
2 eggs
½ tsp. vanilla
1 ¾ cups (144g) plain granola
Nutrition:
Calories: 170 , Total Fat: 6 g, (Saturated Fat: 3 g), Sodium: 125 mg, Carbohydrate: 27 g, Fiber: 2 g, Protein: 3 g.
Dietary choice:
Vegetarian
Description:
Mmmmm, brownies! Butterscotch chips and brown sugar are an irresistable pairing, and granola keeps it all together without making the finished brownies too dry or crumbly. Need we say more?
---
Source URL: https://wholegrainscouncil.org/recipes/blonde-brownies
Links
[1] https://wholegrainscouncil.org/grain/oats
[2] https://wholegrainscouncil.org/grain/wheat
[3] http://www.heartlandbrands.com/