In our first three "Whole Grain Value" blogs, we emphasized the extra health value offered by whole grains – with more protein [2], more nutrients [3], and even longer lifespans [4]. Increasingly, however, a new breed of diners – and the chefs creating their meals – are embracing whole grains simply for their interesting tastes and textures, with health as a serendipity afterthought. 
In preparation for our upcoming Whole Grains Away From Home conference [5] September 25-27 in Chicago, we've been talking with chefs and other foodservice operators across the country, and we're delighted to hear over and over that whole grain flavors – in the hands of talented chefs – are leading more and more diners to seek out the extra value of whole grains.
Chef Aaron Brooks, Executive Chef at EDGE Steak & Bar [6]at the Four Seasons Miami, says whole grains are "really being embraced" in the Miami area. He describes his restaurant as a "steak light" concept, serving smaller steaks, leaving room on the plate for grains and vegetables. "Whole grains work with this concept. They really stand up to the red meat that we serve; they seem to have a lot of flavor." He and his team have played around with different breadings, made dishes like quinoa gnocchi and barley grits – and even bought a grain mill. 
"Restaurants are starting to look at whole grains first as flavor carriers," Bloomin' Brands' dietitian Maria Caranfa reported to us, "and the health benefits are second." At her company's Bonefish Grill chain [7], whole grains show up in specials, such as fish on a bed of farro, and Outback Steakhouse [8] designed its Marsala Roasted Sirloin to be served with creamy brown rice "because it had the flavor we're looking for." On Outback's menu, the side dish is simply described as "creamy Parmesan rice" – underscoring that it's about the flavor, not about screaming "healthy" from the rooftops.
At Sweetgreen [9], with 45 locations in the Northeast and California, Chef Michael Stebner echoes others' praise for what the flavor of whole grains can bring to a menu. "Our guests love our grain bowls. The growth in the grain section of our menu is our best growth. They taste delicious. Grains are great carriers of the flavor of our dressings and they're very versatile – they can work in Asian style, Latin American, etc. I don't think there's one place that's better than another to incorporate whole grains." Feast your eyes on Sweetgreen's grain bowls (below)!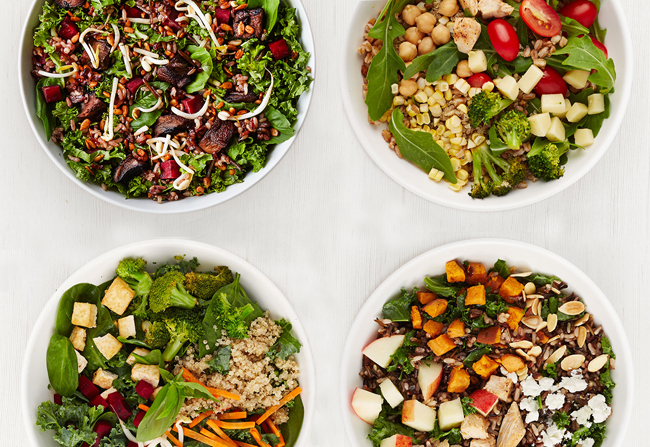 "Whole grains definitely drive appeal," said Chef David Groll, who's developed successful whole grain menu items for McAlister's Deli [10], Beef O Brady's [11] and now Pollo Tropical. [12] He told us that whole grains are "very appealing to Millennials and folks at every level" including "a more educated guest who is willing to pay more." Groll, in fact, talks of "romancing whole grains as an attractive choice" such as using ancient grains mixed with house-brewed beer to make a batter for an Irish recipe.
We're seeing our findings echoed everywhere, with an increasing chorus of articles in the mainstream press extolling the flavor and texture of whole grains, like these in The New York Times and The Wall Street Journal:
Chefs' newfound love for ancient and heirloom grains is a natural progression from their obsession with all things local, sustainable and authentic. Why serve the heritage pork loin and heirloom radicchio next to pappardelle made from plain commodity flour, especially when local emmer flour grown and ground on a small farm creates a better narrative on the plate? Then there's the fact that emmer — a hardy, nutritious and nutty-tasting berry that is the ancestor of durum wheat — happens to make incredibly flavorful, springy pasta.
Beyond Quinoa: The New Ancient Grains (New York Times [13])
A revolution is afoot in bakeries across the country. With highly processed flour giving way to freshly milled whole grains rich in nutrients as well as flavor, it might just be OK to love bread again.
Can You Carbo-Load Your Way to Good Health? (Wall St. Journal [14])
What are your favorite whole grains, when you eat out? Sneak preview: we'll be holding an Instagram contest in September (for Whole Grains Month [15]) and inviting everyone to send in photos of whole grain dishes they order at restaurants. Stay tuned for more details on how you can enter and win, at the end of August. (Cynthia)
Intro
Leading up to our September conference, we've been talking with chefs around the country, who all agree on one message: When it comes to whole grain, it's all about the flavor!