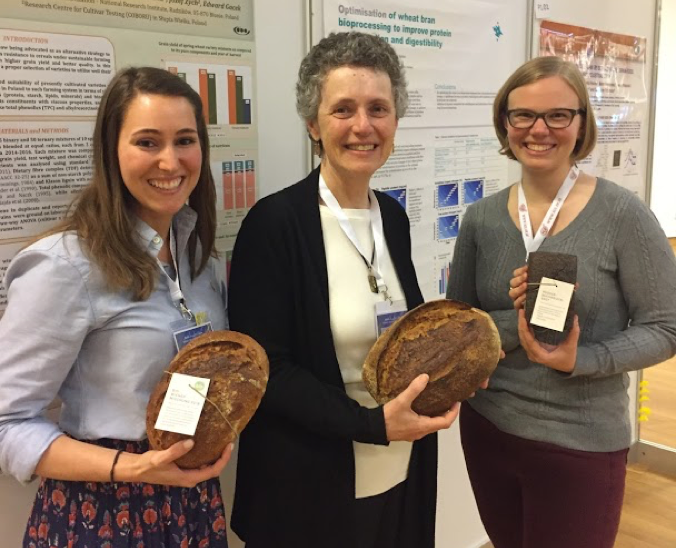 For three blustery November days, we convened in Vienna, Austria to join more than 200 academics, public health experts, and industry executives at the 2017 Whole Grain Summit. This gathering, which had been in the works for more than a year, was an effort to address one of the most pressing public health issues of our time: the need to eat more whole grains. Needless to say, we were in our element.  
The message to eat more whole grains hasn't picked up as much traction among consumers as the sensationalist "sugar is toxic" rhetoric, but perhaps it should. The excitement among the crowd was palpable as keynote speaker Franco Sassi, of the Imperial College in the United Kingdom, presented new data from the Institute for Health Metrics and Evaluation (IHME) on the links between diet and health. This research found that replacing refined grains with whole grains globally could reduce the burden of chronic disease more than any other change – including better-known approaches such as eating more fruits and vegetables, reducing sodium, eliminating trans fats or even cutting sugar-sweetened beverages.
With so many different nations represented, the Whole Grain Summit offered a glimpse at the many creative approaches to improve nutrition around the globe. For grainiacs like us, watching Denmark reveal their whole grain promotion progress is somewhat akin to watching Michael Phelps rack up medals at the Olympics — it is a part of their cultural identity in a way that the rest of us are still figuring out. (That said, the US is no slouch when it comes to whole grains — nationwide data indicates we've increased our intake by 50% [2] in the past decade.)
Nordic countries, like Denmark, have an especially rich history of whole grain foods, like rye bread or porridge. But as we detail in many of our Traditional Diet Pyramids [3], whole grains are a foundation of traditional cuisines around the world. "Our society was built on the use of whole grains," explained Dr. Koen Venema, of Maastricht University in the Netherlands.  "Only recently have we started refining them."
In many countries, the reputation of whole grains is often overshadowed by the fiber they contain, and therein lies the publicity problem. As important as it may be, most editors and policy makers don't deem staying "regular" with the same urgency as other health topics. But shifting focus away from whole grains has real-world disease implications, as noted by the IHME data above.
From fiber, to enzymatic activity, to nurturing the gut microbiome, experts at the Whole Grain Summit made clear that whole grains are more than the sum of their nutrient parts. Even aspects of the grain that have been approached with caution in the past (such as phytates, compounds that are widely misunderstood as "antinutrients") are being revisited with enthusiasm. In fact, Christophe Courtin, of the Catholic University of Leuven in Belgium explained that "Phytate is also under study as an antioxidant," and a winning poster presentation from the University of Helsinki highlighted phytate's role in helping stabilize the healthy beta-glucan fiber in oats.
Much of the Whole Grain Summit was spent strategizing ways to make whole grains a global health priority. To this end, we led two roundtable discussions (one on public private partnerships to promote whole grains, and another on promoting whole grains in foodservice), and also presented some of the best practices we've honed after more than a decade of work at the Oldways Whole Grains Council. We also worked with global leaders at the ICC (International Association for Cereal Science and Technology), the Healthgrain Forum, and the University of Minnesota to craft a Whole Grain Declaration [4] and to identify four key goals [5] to keep momentum moving forward.
Whole grain enthusiasts near and far are invited to continue the conversation at our upcoming Whole Grains Council Conference [6], November 4-6, 2018 in Seattle, Washington. Registration is now open, and we hope to see you there! (Kelly)
Intro
For three blustery November days, we convened in Vienna, Austria to join more than 200 academics, public health experts, and industry executives at the 2017 Whole Grain Summit. Get a behind-the-scenes look here...